Subscribe to the Leadership with Heart Podcast:
In this episode, Heather speaks with Phil Burgess, Chief People Officer of CSpace about his leadership philosophy, his stories about the messiness that happens in the workplace, his experience when he was not a shining example of leadership with heart and what he did to move out of it, and some amazing pearls of wisdom.
Key takeaways:
It's up to leaders to embrace the mess that is all of us at work.
Leaders must model the change they are seeking.
Leaders are more effective when they invite feedback from direct reports and act upon those by making small tweaks.
Spending time with your people helps connect the dots about them and the areas that need attention in the business.
As a leader, we cannot always make everyone happy.
Be who you are as a leader and not a copy of someone else.
Let yourself off the hook. Have conviction in what you are doing.
Seek out safe spaces where the leader can be vulnerable.
Catch yourself doing things right.
Remember that everyone owns the culture.
This episode is bursting with amazing learnings. Don't miss this!
Phil highly believes that growing people is the most effective way to grow a business. That's why he's passionate about building high-performing, inclusive cultures and the role that leaders play in making this happen. 
He currently serves as the Chief People & Operations Officer at C Space, a customer agency on a mission to make business more human by building customers into the way brands work.  His focus is ensuring that C Space lives this mission internally, creating a great employee experience for its team of 350 staff across the USA, and enabling them to deliver great work to their clients. Early on, Phil was Joint Managing Director of C Space's London office where his work on people contributed to C Space twice winning Agency of the Year and taking home the MRS Best Place to Work Award in 2018. 
He started his career in door-to-door sales, recruiting and building teams before moving into the world of research and consultancy. This year he was named as one of the UK's Top 30 male 'Agents of Change' championing equality and inclusivity in business. He recently relocated from London to the States with his wife and two small children.
More Human
I'm learning as I go. I'm learning everyday, especially a lot about how important culture and leadership is in turning around a company. 

I feel lucky to be working for an agency where I really believe is the place I'm meant to be. I believe in its mission, which is helping businesses be more human. We bring brands and consumers together to co-create products and services.

I'm also convinced that my mission, internally, is to figure out how to make our business more human, how to make sure we're constant inside and out, how to bring more human practice, and how to embrace the messiness of everything for the people that work here to make it a great place to be.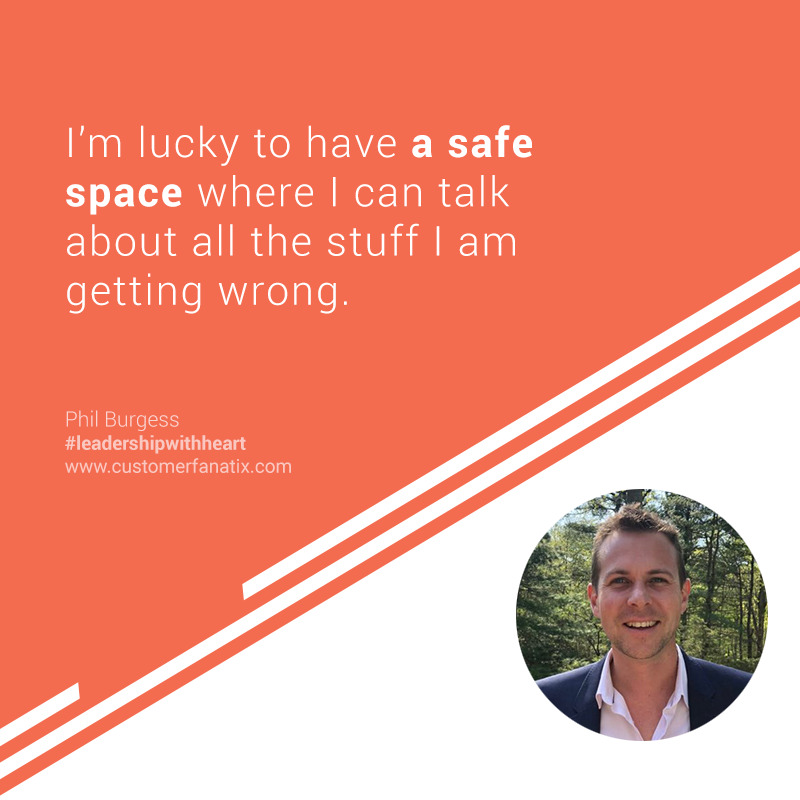 Have conviction in what you're doing. – @pdburgess #leadershipwithheart Click To Tweet
More Messiness
As leaders, we aren't perfect. We are just people—imperfect.

In the company, we've been brainstorming a lot about our culture and the people within it: how to get our people to bring themselves to work, and how to embrace the fact that we all need to be a little bit more vulnerable and a little bit more supportive of one another. We're all works in progress. Now, how do we embrace it as part of our value proposition as an employer?

We're looking for people who are works in progress, who are self aware enough to know that they've got stuff they get wrong, and who are happy to talk about these things.

I see it a big part of my role as a leader to figure out how to shape a culture that makes people safe enough to talk about that, so they can get to be the best versions of themselves. It's a big responsibility but it's also something I believe in strongly.

It's my role to think about ways to motivate these kinds of behaviors, so that people see me and the other members of our leadership team talking about what we're also messing up. We don't know all the answers, yet we still want to inspire confidence that we know where we're going, though we might not exactly know how we are going to get there. It's kind of a messy journey but if you embrace it, it can be fun.
What helped me is finding some safe spaces where I can vulnerable with other people going through the same thing. – @pdburgess #leadershipwithheart Click To Tweet
More Feedback
On a good day, I feel like I get it right, so I invite my team to give me feedback on how we're doing, or if they understand the vision or the direction I am taking them in. On a bad day, I would criticize myself and worry about things: if I am appearing flustered or indecisive, or if I am passing my stress onto others by not having a clear plan. So, I always invite feedback from my direct team about how I am doing.

Some of them said to me the other day, "Phil, sometimes, I know you've got a lot on your plate. But when you're racing around the office, or running between meetings, the stress could pass on to us. We know you're all over it but maybe just think about how you could slow down."

I appreciated that and took it to heart. Over the last couple of months I have been really focusing on how to show up in different ways, and it's helpful to have a team who can point out these little things, as well as the things that I think I am setting the pace, which other people might interpret slightly differently.

Hence, I focus a lot on providing spaces to people to point out where I'm getting stuff wrong. Then, I try to be as vocal as I can with my team about their feedback and suggestions. They also try to give me feedback on what I am getting right which adds to my self-confidence and self-esteem as a leader. Overall, it helps them see me as not just the guy that has got all the answers, but as someone who is working with them to move everyone forward.
We're all works in progress. – @pdburgess #leadershipwithheart Click To Tweet
I'm learning as I go. I'm learning every day. – @pdburgess #leadershipwithheart Click To Tweet
We don't know all the answers, yet we still want to inspire confidence that we know where we're going, though we might not exactly know how we are going to get there. – @pdburgess #leadershipwithheart Click To Tweet
---
Mentions
Connect with Phil on LinkedIn and Twitter
Subscribe, rate and review the podcast on Apple Podcast
Listen to the podcast on Spotify