Subscribe to the Leadership with Heart Podcast:
In this episode, Heather speaks directly to listeners about a deeply personal story that reminded her of the importance of loving the people on your team. She outlines the benefits of doing so and she inspires leaders from all walks to care deeply for the people who look up to them for leadership.
Key takeaways:
Don't be afraid to lead with love.
Leaders who care deeply create deeply caring employees.
Sit with your people and meet them where they are.
Leadership is not a cookie-cutter experience. 
Meet people where they are.
Emotions create loyalty.
Listen and learn!
Deep Caring Love
Recently, a friend of mine posted something on LinkedIn and tagged me as the "amazing leader." It was a really touching post, but it made me think of another article I have written before. I didn't realize how long ago it was until I searched for it on LinkedIn. 

In 2014, I wrote an article about why it's okay to love your employees. I know this is a really hard conversation to have and even a tough one to broach because most people really move away from this idea of love in the workplace. 

I don't mean love like romantic love but a deep caring love. Actually, I had this kind of love while I was working at my last job position before I decided to go on my own for Customer Fanatix.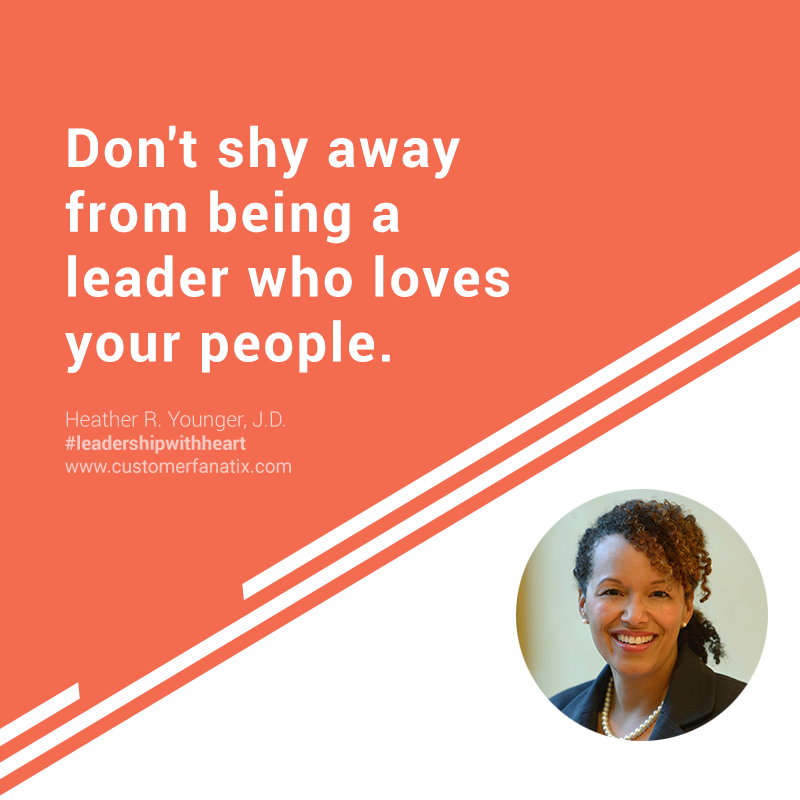 Leaders with heart are the ones who make us feel important, and take the time to be with us where we're at, right there at that moment. – @CustomerFanatix #leadershipwithheart Click To Tweet
A Walking Example
It's okay to love your employees. – @CustomerFanatix #leadershipwithheart Click To Tweet
One day, the manager who brought me in noticed something different. He could see that I was reaching a heightened level of frustration with some of the decisions because I felt completely ignored. He could have let me just swim in that pity for a little bit, but he didn't. 

He came down without an appointment to my office. He sat down on a chair and said, "I know this is frustrating but we hired you for a reason. You're here to do what you do best and we want you to do it well. I know that what's happening is all frustrating, but please do stick with it because we want you to do what you do best." Then he gave me a smile. I've got to tell you that at that moment, I loved that guy.

Today, he already left that position since a lot of the management decisions didn't align with who he was as a leader, which I greatly respected, but boy did it hurt because he was such a wonderful manager. 

But just recently my heart was really broken for him as his son who was just in his 20's passed away in his sleep. I really cared about him and I quickly requested the information to make sure I could get to his son's funeral. When I showed up, I remembered when he cared for me and I wanted to do the same for him. I want to be there for him. When we locked eyes, he looked at me and his eyes said, "Thank you." But I looked at him back and expressed, "No. Thank you."