Subscribe to the Leadership with Heart Podcast:
In this episode, Heather Younger speaks with Kimberly Loving, Chief of Staff for the City of Seattle overseeing the HR function with 13,000 employees. Kimberly shares some requirements of leaders to cultivate their employees, the time when she was not the best version of herself as a leader, and really cool learnings from her mother and relatives.
Key takeaways:
People matter most, so set everything else aside.
Focusing on people is simple, yet not easy. But it must be done.
Align yourself with people who will support you even when you fail.
You have more to offer, and you may have to leave for others to see it.
Believe in yourself that you are worth it.
Prepare your ears for a wonderful and insightful ride. Enjoy!
Kimberly Loving is the Chief of Staff at the Seattle Department of Human Resources.
She is an experienced Executive Operations and Human Resource Leader who is expert in building high performing teams that align with strategic vision. She has over 20 years of experience in both the public and the private sector. 
Kimberly is skilled in transforming executive vision into tactical and measurable deliverables and outcomes, as well as executing strategic initiatives through quality programs and solutions. She is also an expert in managing diverse executive level strategic projects.
Kimberly graduated at Reed College with a BA in Economics & International Comparative Policy Studies. She also holds an MBA from the American University- Kogod School Of Business.
Right Reasons
Yes, I have a pretty big job. It is extremely diverse. Some people say, "No day is the same." For me, "No hour" is the same. Everyone can be very different in terms of the demands, the political swings at the moment, the needs of the organization, and the variety of other things.

The idea that so many tactical things going on is not unique to HR. I think it is a function of Western culture where everything must be fast, including the results, whether you're in the public or private sector, or HR or in Manufacturing. How I ended up here is certainly unplanned. I feel like I am someone who accidentally landed in HR but for the right reasons. At my core, I care about people.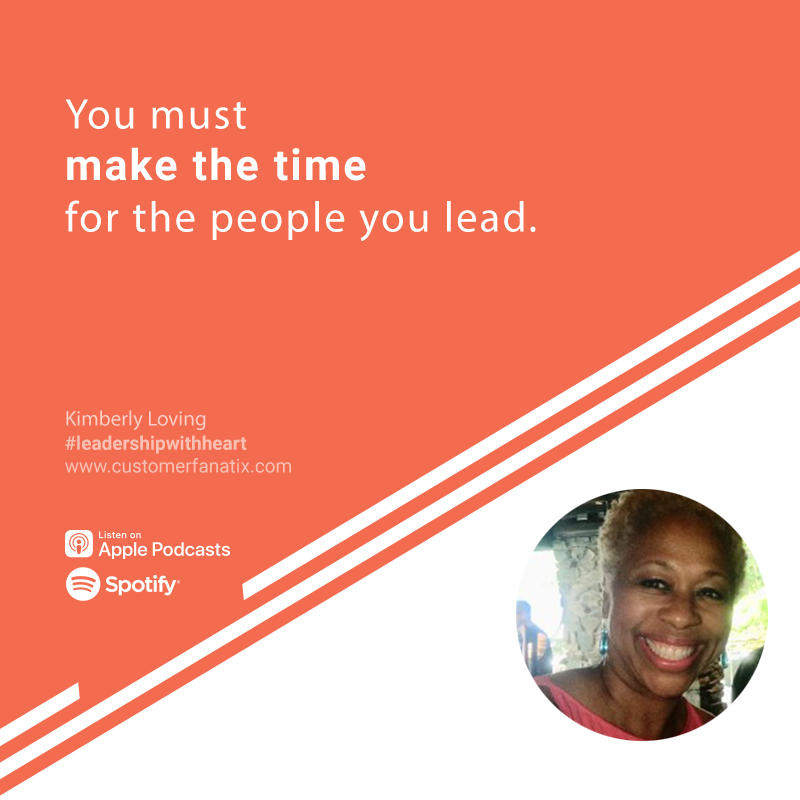 I remind myself to look at everything as an opportunity to learn. In some instances, you learn what not to do. – Kimberly Loving #leadershipwithheart Click To Tweet
The Core
I love working with people. I love coaching and supporting my people, identifying their skills and the courageous steps they have to take to realize their potential and for me to develop high-performing teams. I am a pretty linear thinker. I love to solve problems and figure out how an organization can structure itself for people-based outcomes.

People are the things that matter most. The leaders that I have had the pleasure working with throughout my career and the ones that I work with today would hear me talk about this over and over. 

I refocus and repoint them constantly by asking, checking, and reminding them that it doesn't matter how wonderful our strategic plans may look, or how excited we all are about it. If we are not seeding, developing, investing, and placing our people, our most precious and most valuable resource, at the core of everything that we do, we will fail.

Introducing performance metrics to departments where it didn't exist before could be very frightening. But performance metrics, service metrics, and service level agreement outcomes and improvements are helpful in organizations. Hence, it is important to bring people together in order to educate and help them understand the why these methods are valuable.

It takes time. It takes time to sit down with people and listen to them. It takes time to schedule a post-activity meet up to talk about how your meeting or the presentation you led went, and what the good things were. As leaders, you must invest, prune, water, cultivate, and reach out to your network.
Refill your own cup. – Kimberly Loving #leadershipwithheart Click To Tweet
You have to be your own champion. – Kimberly Loving #leadershipwithheart Click To Tweet
Align Yourself
You must align yourself with people who support and love you, and who are willing to be your champion even when you cannot be one for yourself. You have more to offer than some organizations are willing to see.

For anybody who might be struggling, you must align yourself with the people whom you can trust, whom you can be your true self with, and who will support you even if you fail. Hopefully people have families or close friends they call family to lean on.

Most importantly, lean on yourself. It's not easy but it is not complicated either. Understand and embrace your power. Put yourself first.

Love yourself. You are worth it. Know that your talents will be cherished, valued, respected and honored if you put in the work and find the right leader, the right team and the right organization to work with.
Know what is important to you, where your values are, and how you want to align with your organization so that you can show up as your best self. – Kimberly Loving #leadershipwithheart Click To Tweet
You must believe in yourself. – Kimberly Loving #leadershipwithheart Click To Tweet
---
Mentions
Connect with Kimberly on LinkedIn
Subscribe, rate and review the podcast on Apple Podcast
Listen to the podcast on Spotify