Subscribe to the Leadership with Heart Podcast:
In this podcast episode, Heather Younger speaks with Benilda Samuels, COO of Nurse-Family Partnership, about her unique way of helping others breathe through challenges and how she brings her employees close when times get tough. She also shares a time when she was not the best leader and how she came out of it.
Key Takeaways:
Take a breath to reflect on what is happening in your work life.
Bring your people close to you and pause amidst adversity.
People should always come first; tasks come second.
Take time to be with a person, without any agenda.
There is value in pausing.
This episode is jam-packed with wonderful insights. Enjoy!
Benilda (Benny) Samuels, serves as Chief Operations Officer for Nurse-Family Partnership where she is responsible for the growth and effectiveness of the national network operations covering 275 local NFP sites, across 41 states, serving more than 500 counties within the U.S.
Prior to leading operations, Benny served as Chief of Marketing and Communications where she was responsible for rebranding and repositioning Nurse-Family Partnership as the gold standard in home visiting. She also created the first national outreach team aimed at reaching eligible clients where they are in community.
Benny's career began in advertising working on big box accounts in Colorado such as McDonald's of the Rocky Mountains, the Colorado Lottery and Qwest Communications. Following he start up in advertising, Benny worked with Denver Health (Denver's nationally recognized safety net public hospital system) in communication, and as the program manager for Community Voices; a 7-year multi-million dollar grant funded by the W.K. Kellogg Foundation and the Colorado Trust aimed at increasing access to publicly sponsored health insurance for the uninsured and underinsured. Additionally, she led the operations of Denver Colorado Long-Acting Contraceptive Family Planning Project. A project that is credited with reducing unintended pregnancies in Colorado by 40%.
Her career continued when she was appointed director of communications at Denver County Human Services under Mayor Hickenlooper. While there, Benny worked to increase participation in childcare assistance, Temporary Assistance to Needy Families (TANF), food stamps, and energy assistance, and foster care family recruitment.
Benny received her undergraduate degree in graphic design from the University of Denver, and her master's degree in mass communications from the University of Colorado, Boulder. She is a native of Panama; has one son, Sergio; a junior at Grand Canyon University, and is married to John Watson, a retired Paramedic/Firefighter. They live in Denver with their mutt Oreo.
Be Intentional
My leadership is a journey that I manage with intentionality. I think the world is a strange place in terms of how we relate, tolerate, and lift each other up. There's a great need to tackle social change from a different angle.

I am wondering if it's time for me to discuss more the roots of why things happen: social justice, social change, and disparities. But I want to give myself an opportunity to contribute differently.

My work is to lift up the younger generations in the workforce, supporting their vision and their resolutions for people living in poverty. I enjoy mentoring young professionals, connecting them to issues, and helping them with their profession.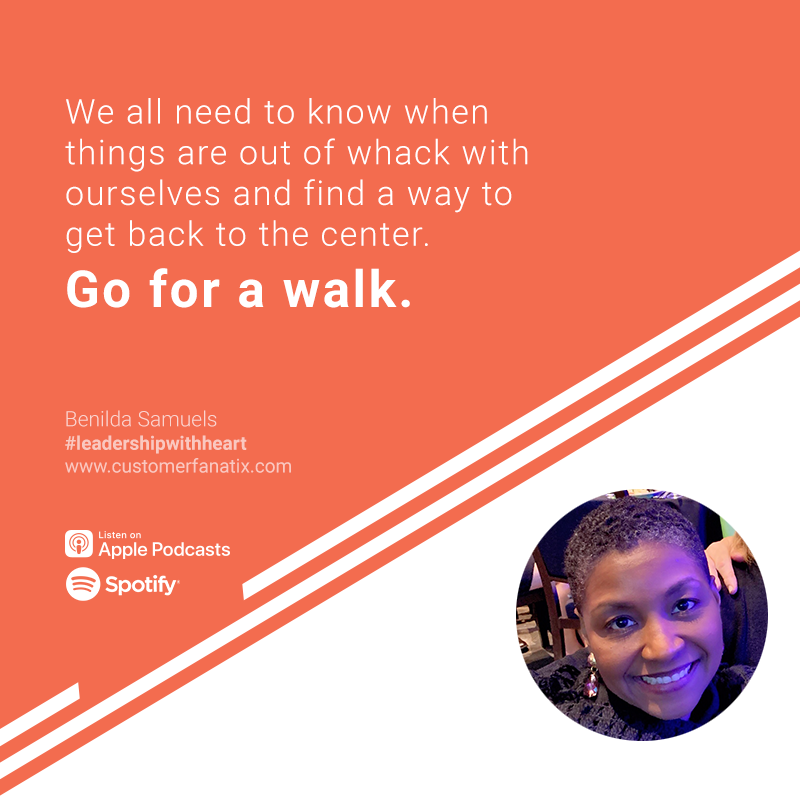 It's important to listen to yourself. – Benilda Samuels #leadershipwithheart Click To Tweet
Hold People Close
I have learned to hold people close from being a mother. I only have one child, and in the challenges he had, I always keep him closer to me. 

I go back to the days when he was playing basketball in high school. He had already said to himself that he was going to score twenty points in that game. However, he only had six points at the end, and he just fell apart. That happened a lot, because I have a kid who always wanted to up his game in basketball. 

Of course, saying, "Oh honey it's just a sport," is not going to work. So, I would just sit with him on the floor literally, if he's crying. Sometimes, I wouldn't say anything. Sometimes, I would help him think about what he could do better next time, even though I have no idea if it would help him or not. But, that's what I mean by sitting close. Take time to be with the person in their lowest moments. You don't always have to have a message. What is more important is that they know that somebody is with them in their corner.

If there's a sick child or a sick parent, they are my focus. I say to people all the time, "You do what you have got to do. Let me know how I can help." I check in with them just to make sure they are still doing okay. What is going on with your personal life can eat up what goes on in your work life.
People come first; work and the goals of the organization come second. – Benilda Samuels #leadershipwithheart Click To Tweet
Pause and Breathe
My mother was a stay-at-home mom, but she was civically active. She built the church I grew up in and she was in a lot of civic clubs. She also became the first female president in one of them. So, as a child, I watched and learned.

On the same hand, my drive to lead also comes from having the opportunity to provide representation and a voice for those who are not always part of the table where the decisions are being made. That is really important for me. In my entire career, I wanted to make sure that I am positioned to support those living in poverty, the decisions made about them, and the resources that go towards them.

Culturally, I come from a place where you tough it out, and you're taught that less whining is better. That's how I grew up and how I would automatically respond to things. So I had to practice empathy to my son when he was growing up. Over time, what I had practiced and learned became my way of doing.

I have learned that pausing and taking a little time out to be with yourself is important because when things are out of whack at work, there's a possibility that the problem is internal. So I reflect and sit in my backyard. I recommend that people pause and breathe as they move forward.
Stress could take over a person's spirit, attitude, and mindset. – Benilda Samuels #leadershipwithheart Click To Tweet
When things get challenging and stressful, my approach is to hold people closer. – Benilda Samuels #leadershipwithheart Click To Tweet
Allow people to take a pause and to have some time to breathe so that they are not overwhelmed and overtaken by the actual situation. – Benilda Samuels #leadershipwithheart Click To Tweet
---
Mentions
Connect with Benilda on LinkedIn
Subscribe, rate and review the podcast on Apple Podcast
Listen to the podcast on Spotify