Subscribe to the Leadership with Heart Podcast:
In this episode, Heather speaks to Christina Wegner, VP of Marketing at the Vollrath Company. Christina talks about her leadership style, a funny story about her drive to lead, a powerful account about a time when she was not the best leader she could be, and exactly what she did to come out of it. 
Key takeaways:
Feedback is a gift. Give it and receive it often.
Commit your time to becoming a lifelong learner.
Pay if forward. Give your talents away for others to benefit.
Do something different and innovative.
This episode is chock-full of psychological safety messages! Listen and learn!
Christina Wegner is the Vice President of Marketing for The Vollrath Company.
A proud member of the foodservice industry since 2017, Christina has a demonstrated history of working in the financial services, plumbing and sports industries. While all seemingly different industries, her role in building incredible brands, relationships, developing amazing people is the common thread in them all! 
She attended the University of Montana for her undergrad, and the University of Wisconsin-Milwaukee for her MBA. In her time outside of the office, she and her husband Tim are raising two beautiful daughters! They enjoy traveling the world, eating great food and playing lots of sports outside!
Since Childhood
I am in a space of continuous learning and improvement. Being a part of an ever-growing and ever-evolving company causes my leadership styles and skills to be put to the test on a daily basis. Actually, this week has given me a run for my money, which I very much appreciate.

I think my leadership journey is very interesting because from an early age, I always like to position myself as the leader. Back in the days, people used to call leaders who are girls very "bossy." I remember reading my kindergarten report card where my teacher wrote, "I'm concerned to ever leave the room because Christina may take it over." From then on, my parents knew that there was definitely nothing getting in my way to leadership.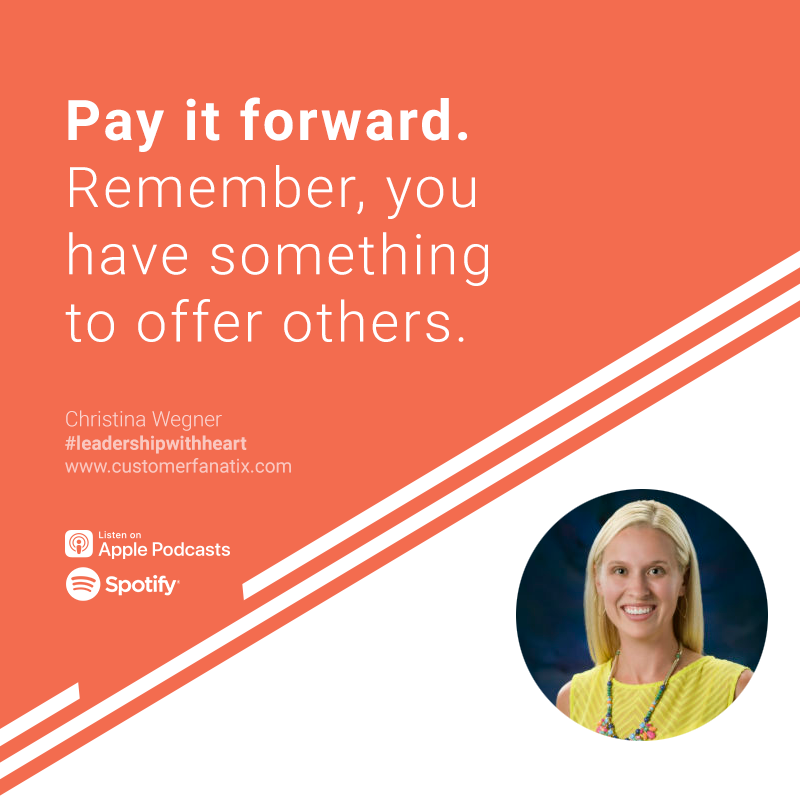 Stretch outside your comfort zone. – @stinam15 #leadershipwithheart Click To Tweet
Cool Tricks Pay Off
I have two incredible role models—my mom and my dad—in my life who showed me that hard work truly pays off. As a woman who had gone up the corporate ranks, my mom really proved to me that if you set your mind to achieving your goals, you really could accomplish all of them.

I went in to all of my leadership roles with eyes wide open. I knew that I have to be prepared for the things I believe could come my way, and I also realized that I have to be open to the stuff I wasn't prepared for. 

I have worked very diligently on being mindful of my emotions, on accepting things, and managing my facial expressions and my immediate responses. Over my career, these things definitely have evolved and have been honed.

When I speak in front of groups, sometimes small ones are even more intimidating than big crowds, especially when they are your peers. In public speaking settings, I was taught by a friend how not to become nervous by slowing your heartbeat down. 

To do that, you just have to sing in your head any song that just comes naturally to you. Whether it's the "ABC song", "Mary Had a Little Lamb", or "Happy Birthday", just keep on repeating it over and over. While doing that, it would also be beneficial to take deep breaths. 

After time, you will find your heartbeat in a steady pace and your voice doesn't shake. Then,  everything becomes cool, and you can go on with what you are doing. This has been a really cool trick and it has done a lot of good for me and my career.
Think outside of the industry you work in. – @stinam15 #leadershipwithheart Click To Tweet
Art and Science
I speak to my team a lot around art and science. I tell them that they can have all of the science to being a good manager. But if they don't have the art of it, it would fall flat. 

As a result, you could lose people along the way. It would become hard to bring them along with you, especially in really difficult times when you need to rally people and get them excited in order to follow you in the battle. Therefore, you need to be able to make sure that you have both art and science of leadership.

So, if I am just being super direct with my team all of the time, but not building them up and giving them positive feedback, then I am going to have a hard time bringing them along with me in difficult times. 

I really try to implement both. I am not saying I am already perfect at it, but I am continuously working on it.

I came from a working environment, the finance services, where sharpness and directness were acceptable. So when I came to Vollrath, I had to tone them down so that I can meet my group, who has a different working culture, halfway. I give my group both directness, sharpness, and positive feedback, and I keep a healthy balance of those.
Commit the time to being a lifelong learner. – @stinam15 #leadershipwithheart Click To Tweet
Feedback is a gift. – @stinam15 #leadershipwithheart Click To Tweet
Every time I have a misstep, it is a learning opportunity for me. – @stinam15 #leadershipwithheart Click To Tweet
---
Mentions
Connect with Christina on LinkedIn and Twitter
Subscribe, rate and review the podcast on Apple Podcast
Listen to the podcast on Spotify