Subscribe to the Leadership with Heart Podcast:
Heather celebrates the 100th episode of the podcast by sharing testimonials from people who have listened mostly since the beginning of the show. She also gives a short nugget and an impactful message to those listening. Please listen in as we honor those who support the podcast as well as the Leaders with Heart who have been on the show.
Cheers to 100 more! Enjoy!
Leaders With Heart
Employee experience is powered by emotions. Managers and leaders get to choose which emotions they express to the people they lead. Leaders drive much of the positive or negative emotions through their actions, inactions, words, and what they fail to say. 

When managers choose their words and actions carefully, they exhibit great emotional intelligence. These managers are often thought of as leaders who care, or as I like to call them, Leaders With Heart. 

These special brand of leaders drive engagement and loyalty simply by being themselves. Are these leaders perfect? Absolutely not. It is in their awareness and  sharing of their imperfections that we realize their brilliance.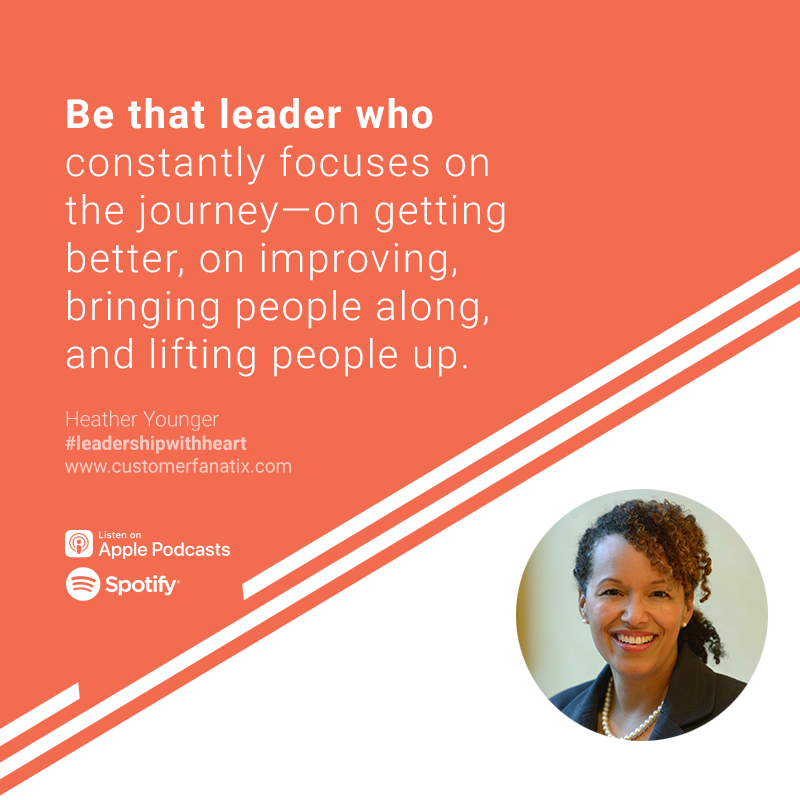 The Power of Choice
Whether you are leading someone now, or you want to lead other people, or you're leading yourself, you get to choose what that looks like.

You get to choose your mindset and behavior. You do have impact and you also get to choose what impact to have, whether it is positive or negative. It is critical for a leader with heart to be thinking about the journey, and not focusing so much on the destination.

Even leaders who do most things right also do things which are not so great. But, it is in us and how we highlight those stories and their backgrounds that makes our learning so rich.

Be that leader who is constantly focusing on the journey—on getting better, on improving, bringing people along, and lifting people up.
I have always been impressed with Heather's authenticity. When she says leadership with heart, she means it. – Rich Gassen, Ep 32 Guest #leadershipwithheart Click To Tweet
Everything about leadership with heart, you have brought to life. Here we are, two years later with a hundred conversations with leaders with heart. – Neil Hughes #leadershipwithheart Click To Tweet
I have really enjoyed listening to an eclectic, diverse, and thought-provoking mix of guests. I'm just so proud to know you and follow you on your journey. – Gary Turner #leadershipwithheart Click To Tweet
---
Mentions
Subscribe, rate and review the podcast on Apple Podcast
Listen to the podcast on Spotify