Subscribe to the Leadership with Heart Podcast:
In this episode, Heather speaks with her listeners her plans for 2020 and the role they can play in it. She also talks about a powerful story of how loving and caring transformed a group of women, and how these can also transform our workplaces. Lastly, she shares some updates on her latest book.
Key takeaways:
Love and care in the workplace can transform cultures.
Once we set out to do some thing and we are wholly focused on that, it will become a reality.
Leaders play a huge role in their employees' happiness and well-being. Take it very seriously.
Don't miss this episode. Listen and learn!
Where we're headed
I'm going to continue to interview leaders who are more emotionally intelligent having diverse backgrounds, jobs, and insights. This 2020, I am looking to change things, and that's getting more interaction from you.

You may tweet to me, post something on LinkedIn or email me at heather@customerfanatix.com if there's something you want to see, or specific people you like to refer to me. Reach out if you feel like there's something missing, or if I am not going far or deep enough when I am interviewing people, or if there's a question that is continuously lingering on your mind. I want to get that out for you.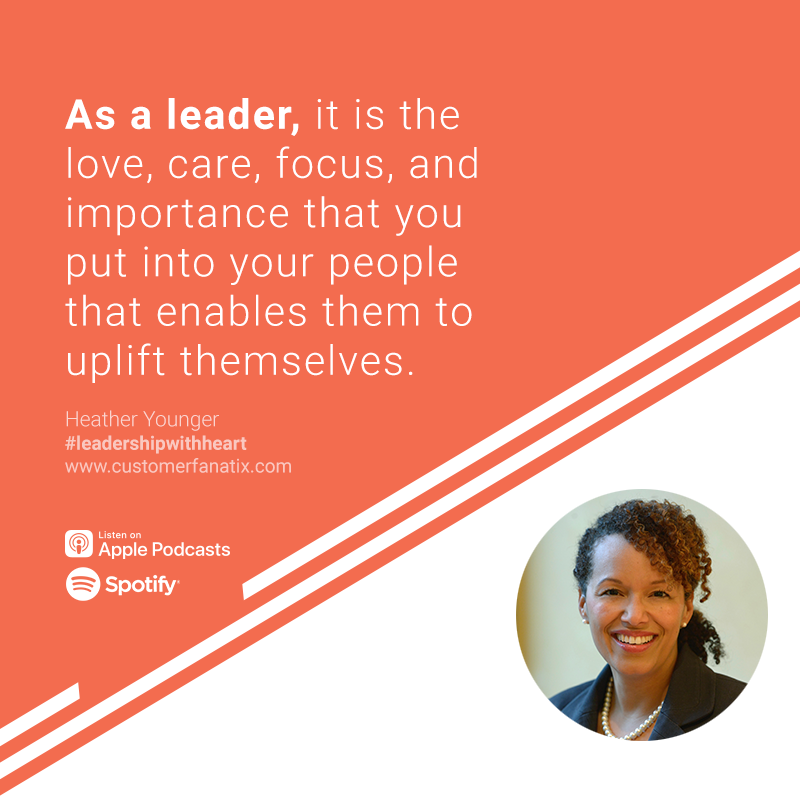 I want more interaction between us. The idea of this podcast is to evangelize the message that imperfect leaders can also be caring leaders. If you have new ideas, just shoot them over to me. I'm very open and you might see changes from me pretty quickly.
You're listening in because you think there's something special here. – @CustomerFanatix #leadershipwithheart Click To Tweet
Unconditional Love
My daughter watched something in school about a woman who has a salon, and all she does is help women whom people might think of as broken. These women have either been battered, sexually abused, or homeless. When all of them entered the salon, the salon lady fixed them up.

When they came in, these broken women were all jaded, hostile, and a little bit rough. But, the salon lady loved on them and made them feel good by doing their hair and nails, massaging their cracked feet, and doing other things that the average person wouldn't do.

Within a matter of four or five hours, the broken women were already interacting with one another. They were lifting one another up. They told each other, "You can do it!" They became sources of inspiration for one another in their own brokenness.

The salon lady was able to break the walls and smoothen the rough edges of the women in a matter of hours. It was because she gave them unconditional love, care, focus, and importance.

As a leader, it is the love and the care that you put into your people, the focus and the importance that you make them feel that enables them to uplift themselves. As a result, they do more for those around them. They feel better about themselves, and now they see the world differently. They're prepared to do more for their team and for you.
You don't have to be perfect in order to be a leader that other people want to work for – @CustomerFanatix #leadershipwithheart Click To Tweet
Good News
Last Sunday, I just signed a contract for the next book, the second one, and this is going to be predominantly based upon the interviews in the podcast. I've boiled up some main concepts of what caring and loving on our people really looks like, and the impacts that they have to our team, our culture, and our performance.

I am very excited about partnering with my publisher whose values are completely aligned with mine and my company. The book won't come out until May 2021.

I am also excited to hear all of your feedback. My goal is that everyone of you buys the book and pass it down to all supervisors and managers in your organization so that we can continue to evangelize this message.

Thank you for being a part of this journey. I welcome all honest feedback you provide along the way. If there's anything that I can do for you outside this show, please let me know. I am a good listener, so you could always reach out to me.
We can change the hearts and the minds of leaders around the world. – @CustomerFanatix #leadershipwithheart Click To Tweet
As a leader, love and care should really be your focus. – @CustomerFanatix #leadershipwithheart Click To Tweet
When you love and care for your people, they feel better about themselves. – @CustomerFanatix #leadershipwithheart Click To Tweet
---
Mentions
Subscribe, rate and review the podcast on Apple Podcast
Listen to the podcast on Spoti