Are you ready to join the active listening movement that is sweeping through workplaces around the world? As a leader who leads by example, you have the ability to create a more robust workplace culture by being an active listener. Employee Fanatix is excited to guide those who are interested in changing their workplace for the better and want to make a positive impact on their organizations. By taking the time to truly listen to your colleagues, customers, and employees, you can build trust, strengthen relationships, and foster a more collaborative and productive work environment.
Below is a defined roadmap to transforming your workplace into one where everyone feels heard, valued and understood.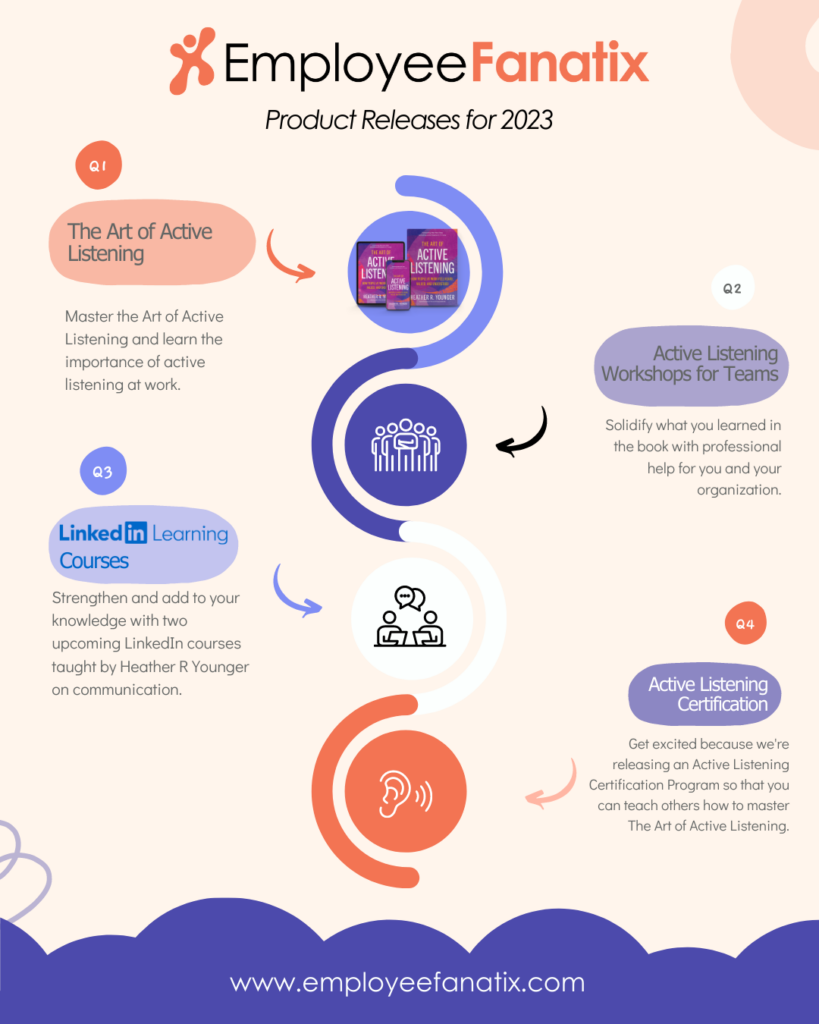 The Art of Active Listening
Most people think that active listening is simply opening our ears to hear what someone is saying to us, and then asking them questions. But there's so much more to listening than that.
In my brand-new book, you'll discover a proven model that will transform how you approach listening at work so that your employees and customers feel heard, understood, and valued.
"When we listen to someone, it's a gift. It's worth it to us, then, to get this listening thing right, because it has the potential to heal so many of the divides between us."
Do you want to take what you learned in my latest book to the next level in your workplace, and not just for you? Keep reading.
Active Listening Workshops for Teams
Join a private workshop and solidify your knowledge of active listening with professional help for you and your organization. As a leader, you understand the importance of effective communication, and the Art of Active Listening book has given you a solid foundation. But now it's time to hone your skills and take them to the next level. A private workshop with expert guidance can help you and your team discover new strategies for better communication and problem-solving. So why wait? Sign up for a workshop today and take the first step towards becoming a powerful, impactful leader.
Don't have the time for a workshop but still want to deepen your knowledge and skills? Keep an eye out for our LinkedIn Learning courses in Q3 of this year.
LinkedIn Learning Courses
Look no further than the upcoming LinkedIn courses taught by me! With a focus on communication within organizations, these courses will not only strengthen your existing knowledge but also introduce new ideas and strategies for effective communication. Heather's expertise and friendly teaching style make these courses engaging and inspiring. Whether you're a seasoned leader or just starting out, these courses will provide valuable insights that you can immediately apply to your work.
Do you feel like you want to be the change you are seeking at work while also becoming expert at active listening at work, then keep your eyes peeled for our verified facilitator offering coming soon!
Active Listening Certification
Our new Certified Active Listening Facilitator Program may just be what you need to take your skills to the next level and inspire others to do the same. Imagine being able to help organizations improve their communication, relationships, and productivity by teaching them the art of active listening. This program will equip you with the knowledge and tools needed to guide others toward becoming active listeners. So get ready to embark on an exciting journey of growth and empowerment, and become the active listening leader you were meant to be!
Reflection
Are you a leader who wants to make a lasting impact within your organization? Do you strive to be an active listening champion, while inspiring others to follow in your footsteps? With our certification program, you can teach the 5 key steps to effectively utilize active listening and create a positive work environment for all team members. By becoming a certified active listening facilitator, you'll provide the tools and knowledge needed for team members to connect with one another and with customers. Your workplace will become a shining beacon for others to follow, and team members will not only want to stay, but customers will want to continue to join. So take the first step in becoming a leader who leads by example, and inspire your organization to cultivate a culture of active listening.