Subscribe to the Leadership with Heart Podcast:
In this episode, Heather speaks with Brent Stockwell, Assistant City Manager of the City of Scottsdale about his leadership style, his development of a personal purpose statement and his experience when he fell short in his leadership role and how he admitted his mistakes.
Key takeaways:
Create a personal mission statement to keep you focused.
A leader's key responsibility is to model great behavior.
Take responsibility for your actions and do everything you can to make things right.
Help others to accept, learn, and grow from failures.
Be approachable.
Be passionate.
Be open to share all you have. Don't hoard.
Surely our leaders with heart will enjoy this one. Listen and learn!
Brent Stockwell is the assistant city manager at the city of Scottsdale, Arizona. 
He has worked in Scottsdale since 2002 in various roles and currently oversees the administrative services and community and economic development divisions. With Brent's leadership, Scottsdale was recognized in 2019 as a Bloomberg Philanthropies' "What Works Cities Silver Certified City", a national standard of excellence in city governance. 
Brent earned his degrees from Kansas State University and the University of Washington. He's happily married with three kids and a mini-golden doodle.
Pass It On
At times, I feel that I have learned so much that I really want to spend the time to pass them on to others. I wanted to develop people early in their leadership journey to help them be successful. 

I have greatly benefited from other leaders and mentors. Throughout my life, they  took the time to invest in me, care about me, and help me be successful. So, when I reached this stage in my leadership journey, I really felt compelled and honoured to pass my learnings along. 

I rarely turn down people who has reached out to me for coaching and mentoring. I can't even think of a time when I turned down someone who wanted to talk about their career vision and plans.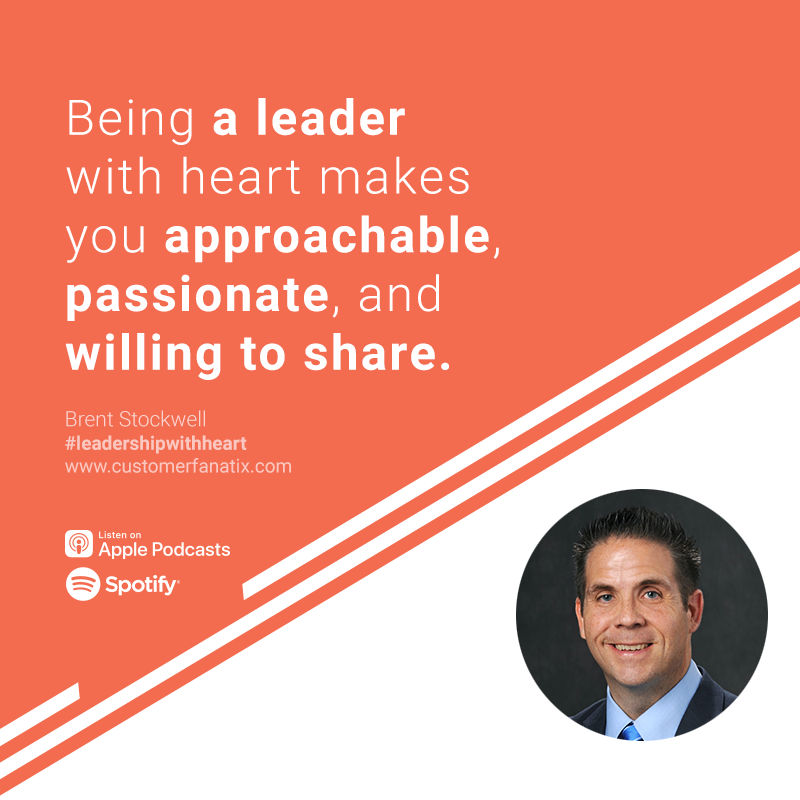 Performance equals capacity minus interference. – @brent4cities #leadershipwithheart Click To Tweet
Purpose Statements
I am one of those folks who takes the time to really think critically and cut through the core of who I am. This way, I can figure out what I need to know and do. 

My purpose statement is I communicate clearly, think strategically, provide excellent response, serve with compassion, advocate for others, and connect to people with resources to help them succeed.

As I am making decisions, I think about, "Is this an opportunity for me to be a resource connector?" Is this a cry for help? Is this something where I need to be a compassionate advocate? Is this a role that needs strategic thinking or is this an opportunity for me to come in and help with clear communication?" These help me be in front of issues all of the time.

Above my monitor is my purpose statement. To the right of my monitor is our organizations' strategic plan, goals, and objectives to help me think proactively. To the left of my screen is the summary of the four components of a leader: clear communicator, strategic thinker, compassionate advocate, and resource connector. 
While I am doing work, I am so intentional that I surround my environment with my purpose statements to keep my focus. – @brent4cities #leadershipwithheart Click To Tweet
Becoming a Family
My drive to lead comes from two things.

First of all, I am an adopted kid. It's a part of my identity, and I get reminded of it every time. Though, I wasn't born into my family, I became a part of my family. In essence, that is how we are in most organizations. 

We become part of it. That is why on-boarding processes and leadership are so critical. That is also why it is so important to help people grow into what they want to become.

We need to have that love and care for organizations to help the people we work with be successful. From that background, the compassionate advocate in me was born.

Second, early in my career, I also worked for successful female leaders. I am thankful for that opportunity. As a leader, it shaped me to become stronger, more adaptive, and more emotionally intelligent. It is also one of the reasons why I am committed to push for more women in leadership roles. 

With them, I think we would have better and stronger organizations as results. Hence, I really work for that passion. These events have really impacted my leadership style.
Just as parents and families do, we need to have love and care for organizations to help the people we work with be successful. – @brent4cities #leadershipwithheart Click To Tweet
My role is to help remove interference so that capacity results in higher performance. – @brent4cities #leadershipwithheart Click To Tweet
Working with successful female leaders shaped me to become stronger, more adaptive, and more emotionally intelligent. – @brent4cities #leadershipwithheart Click To Tweet
---
Mentions
Connect with Brent on LinkedIn and Twitter
Subscribe, rate and review the podcast on Apple Podcast
Listen to the podcast on Spotif