Subscribe to the Leadership with Heart Podcast:
In this episode, Heather speaks with Ron Alvesteffer, President and CEO of Service Express, about his leadership style, his engaging way of meeting his team members, his pearls of wisdom, and his unique way with his direct reports that sets him apart and brings him closer to them.
Key takeaways:
Spend time with your people.
Self-reflect on who you are as a leader. Do you inspire?
Go to work for your people, not the other way around.
Make sure your team knows that you care.
Lead with the relationship first, then metrics and results second.
This episode is full of wisdom. Hope you don't miss this!
Ron Alvesteffer has helped Service Express define its market and create a unique performance-driven culture for employees. As a result, Service Express has been named one of the Best & Brightest Companies to Work For in the Nation 8 years in a row. In 2019, Fortune magazine certified Service Express a winner of their Best Small & Medium Workplaces.
Under Ron's leadership, Service Express has averaged double-digit revenue growth year over year and has expanded the geographic footprint nationally. Ron implemented Service Express' Performance Measurement System (SR5), which tracks monthly and quarterly goals and results.
Ron also authored the eBook, The Service Express Way – values and principles of a growing company. In it, Ron shares the beliefs and philosophies, along with real-life stories from the field that have driven these remarkable results.
Helping Others
I urge all of my leaders to always learn, grow, and strive to be the best they can be.

I like to be in control and be out in front. I believe what Zig Ziglar said, that you can get everything you want in life if you help other people enough to get what they want. That really is the heart of my leadership style, our company, our cultures, and how we hire and promote leaders. 

I get my greatest joy and satisfaction when I help other people achieve their goals through coaching, mentoring, feedback, and connections. I am overjoyed to know and really see them come to life. It truly does happen. You can get everything you want.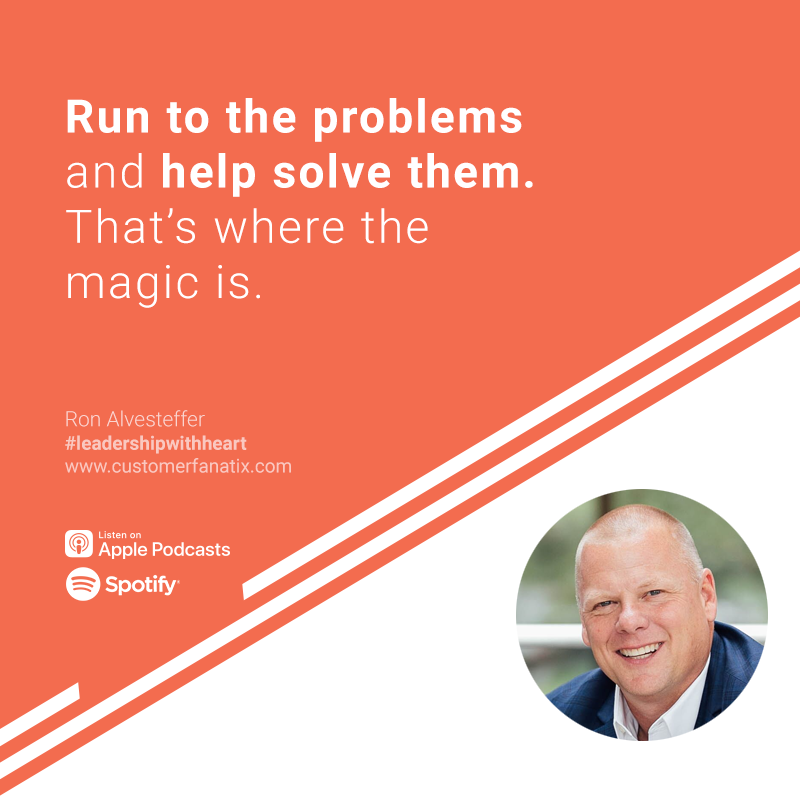 Working for Others
During the time when I was not the best leader, I did two things.

One, I had lead with my relationship with my team first. So, instead of picking up the phone or sitting down for a meeting and getting right into the numbers, the deals, and the harsh feedback, I'd put all of that on secondary. 

Two, I started asking, "How are you doing? How are things going for you? Where can I help you? How can I be of help?"

Instead of telling them what they needed from me and dictating them what I thought they needed, I asked them what I could do for them. These are subtle shifts, but they are powerful.

When you become a leader, the role is how you can help. Go solve problems, and help them solve their problems. Remove their roadblocks and go to work for them. As a leader, you work for your team.
Sometimes, people who are trying to be great leaders miss the point of correction. – @RonAlvesteffer #leadershipwithheart Click To Tweet
If your team doesn't really know and believe that you care about them as a person, everything else will fall flat. – @RonAlvesteffer #leadershipwithheart Click To Tweet
When you become a leader, don't start telling everybody what to do. – @RonAlvesteffer #leadershipwithheart Click To Tweet
---
Mentions
Connect with Ron on LinkedIn and Twitter
Subscribe, rate and review the podcast on Apple Podcast
Listen to the podcast on Spotify