In this episode, Heather speaks with Carey Jenkins, CEO of Substantial. Carey shares her unique outlook on her leadership journey, her leadership style, her refreshing outlook on the evolution of leadership and the power of mindset.
Key takeaways:
Be a continuous learner and seek fresh start in your leadership.
Be intentional in your leadership.
Be clear about your organization's purpose.
A leader's job is to serve the people he/she leads.
Leaders don't need to be the hero, but to work with their team to be the hero.
Leaders need time to recharge.
Carey Jenkins believes in the power of transparent, empathic and direct communication in making stronger relationships in and out of the workplace. That's why as a CEO of Substantial, she makes sure that more women seize more leadership opportunities and their strong connections with each other impact overall workforce growth in the company. She brings expertise in client relationship management, delivery management and business development. Carey is also passionate in building mutually beneficial partnerships with clients and team members. 
While not at work, she is deeply fond of staying at home with her husband and her five-year-old daughter. 
Massive Growth Opportunity
Nine months ago, I became the CEO of Substantial and it started my leadership journey afresh. I feel like a newbie, again, in a good way mostly. It was a huge moment for me, stepping into a lot of really uncomfortable places. 

I've never been a CEO before, so the entire role for me was new even though as a leader of the company, I have been doing many of the things that I still do now. But stepping into something that high-profile, with that much responsibility, looks tops for me. 

Sometimes it's overwhelming but it's just this massive growth opportunity and it's really energizing for me.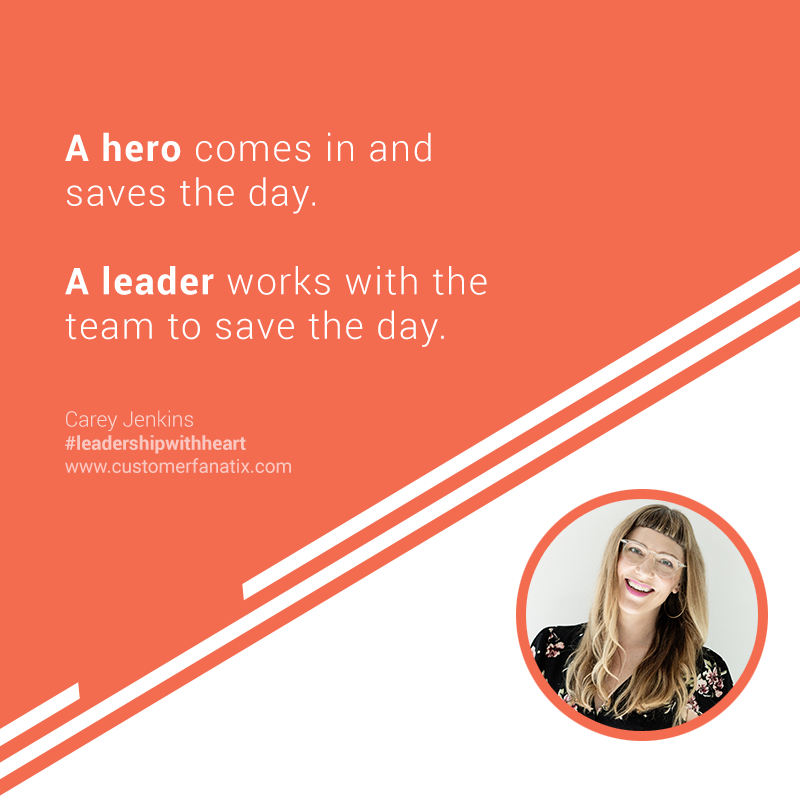 I am a big learner. I want to grow like I want to be a better leader today than I was yesterday. Although I make lots of mistakes, wins and things I am proud of, it's a new day every single day, so I just try to be better and learn something. 
Create an atmosphere where people know how to progress. – Carey Jenkins, @Substantial #leadershipwithheart Click To Tweet
Iteration, Improvement and Grace
When you have a bad day, you go, "How do I wipe that off the slate and start new?" 

I am big believer of new beginnings. I am one of those people who strongly believe in the new year, in birthdays, or these milestones that give you a moment to start fresh. And so doing it day to day is just a much smaller increment where you can iterate and improve.

A couple of years into my tenure year, I was really struggling in my career. I had my baby and I was coming back from maternity leave. That was incredibly challenging. Since my whole company is around iterations and continuous improvement, it's very ingrained in the way we create and launch products. 

At some point, I connected this approach we take to digital products to who I am as a person and what my career is, and that's what started this mindset. I can grow myself. I can iterate on myself. I can learn from one mistake or setback and it will actually make me stronger rather than weaker. 

Also, I started connecting the two things much more intentionally: this approach that's broadly accepted as the best way to create and launch amazing products and to use that mindset to think about myself and my career. It was a real watershed moment for me.

I love that word grace because it gives you some breathing room. I will say that it's a mindset I have to remind myself of. Even though I do it by route in product development, transitioning that mindset to your career, in your personal life, and in your own personal growth, I have to remind myself. That's a journey I take every day.
Incredibly Intentional
I am incredibly intentional with the conversations I have about the way I support and mentor people and my expectations for what we are trying to do at the company and how people contribute to that.

I am a challenging CEO to work for, just like others. I challenge people and I expect a lot from them, so I don't know that intentional always feels positive to them. But, it is the way, I think, you can create an intentional atmosphere where people know how to progress.
How can I develop empathy and emotional intelligence in the people I work with in their own way? – Carey Jenkins, @Substantial #leadershipwithheart Click To Tweet
Things are changing so quickly in our space so it's really about taking the moment to say, "Hey, who we thought we were and who we've been for over a decade is great. It has been successful and we have these phenomenal human beings who work here. But let's think about the next three years, and I mean three years." 

It's because I don't think the pace of change, thinking about who we are in five or ten years, is actually worth our time in this moment. I'm thinking in the three-year time frame because things change that quickly.
I was handed a change, an opportunity, and a moment to step up. – Carey Jenkins, @Substantial #leadershipwithheart Click To Tweet
Companies and teams don't need a hero. They need a leader. – Carey Jenkins, @Substantial #leadershipwithheart Click To Tweet
Give yourself time to recharge. You should take a break. – Carey Jenkins, @Substantial #leadershipwithheart Click To Tweet
---
Mentions
Connect with Carey on LinkedIn and Twitter
Subscribe, rate and review the podcast on iTunes!
Listen to the podcast on Spotify