In this episode, Heather speaks with Megan Bertrand, SVP for Learning and Development for FirstBank. Megan shares a great way on how she connects with her team, her leadership style, a time when she was not the best leader she could be and its impact on her today. This was Heather's first in-person interview and you can feel the energy and connection even more.
Key takeaways:
Leadership is a journey. It never stops.
You can't lead if no one is following.
You can't lead from the dirt.
Set time aside to spend with team that is not about business, but is fun and personal.
Your people want to know you outside of work.
If you are struggling in any way, this too shall pass.
Have fun listening to this one!
Megan Bertrand's journey towards excellence in Learning and Development began early when she started as a teller at First Bank. She furthered her involvement with the company by entering FirstBank's Management Training Program after finishing her degree in Finance and Management at the University of Colorado. It was the start of her-story.
Megan has managed bank operations and various business development endeavors in the Boulder Market before transferring to FirstBank's Headquarters to manage the Learning and Development Department. She also has been responsible in driving leadership programs, supporting the growth and specialization of her team members, and re-modelling the company's training center. 
While off-duty, Megan is a Master's student at DU studying Learning and Development and Organizational Leadership. She enjoys golf and paddle boarding, and she recently got married.
Break Out and Collaborate
Being the 'baby', as my family call me all the time, I wanted to break out and do my own thing. I went to a different high school from my brother and sister and that was my opportunity to just be me, and not be their younger sibling. I was involved in everything and I loved it.

Working with people is what I wanted to do. I'm very biased but I have such a wonderful team. I am so lucky to be in a position of creating a leadership program with them. Definitely it wasn't just me. 

There were a lot of ideas that came from my team and they did a great job on it. I am big fan of collaboration and it's just fun to work with them.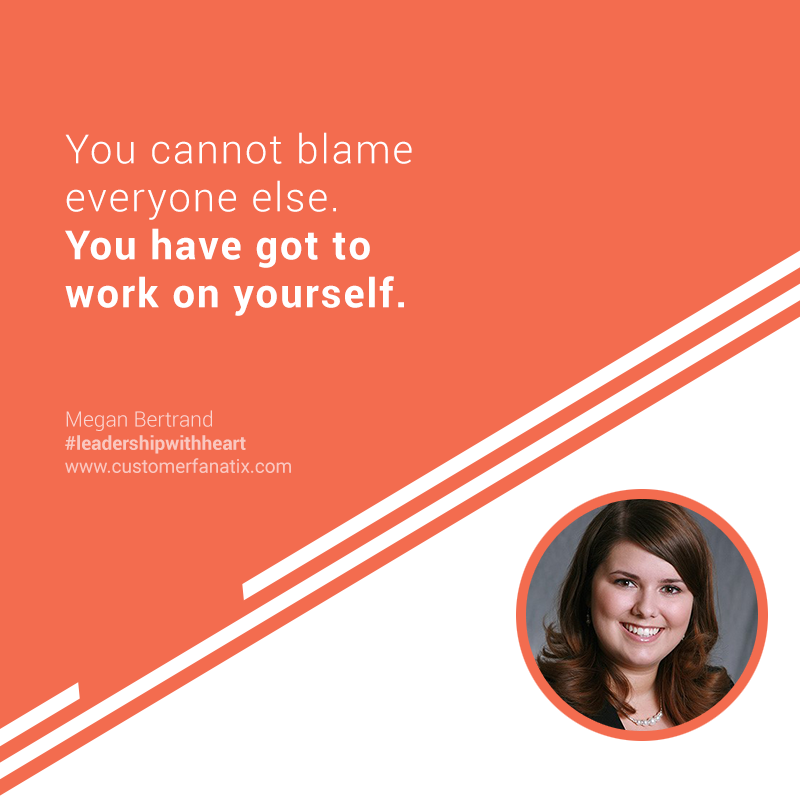 Keep the conversation going. – Megan Bertrand #leadershipwithheart Click To Tweet
Right in the Middle
This, too, shall pass. – Megan Bertrand #leadershipwithheart Click To Tweet
I feel good with my leadership skills but I am always learning. I am always wanting to learn more while working with different people from all over the place. I feel like I have learned a lot from everyone that I have worked with, both positives and negatives.Those things have really turned me into the leader I am today.

When we created our Leadership Program here at FirstBank, I learned early on that there was a mentality of, "Leaders are born, not made." I was questioning that for a while so we did some research to address it in the program. 

But it makes so much more sense when we branded it based on the journey. You'll never feel 100% solid like, "I'm done," or, "I'm there." There's so much more you can do.
Changing Approaches
You're never going to change how others react and say things. You're never going to change those persons. But you, as yourself, can change how you react to them and to the situation. I think that was the big piece that I brought into the conversation.

Before, I was struggling in my professional relationships with some of the other officers in my group. They were all great strong officers with different personalities and ways of thinking. I wanted to change them, but it was not the point. 

I needed to change my reaction and my mindset. That was the turning point for me–to change the way I approach working in situations where there are challenges, possible negativity, and butting heads. Now, I feel stronger whenever I'm in those types of situations, and I handle them today differently.
There's always going to be more you can do and learn. – Megan Bertrand #leadershipwithheart Click To Tweet
We can be frustrated at work, but let's figure out a more appropriate outlet for it. – Megan Bertrand #leadershipwithheart Click To Tweet
Make sure that your people feel recognized and appreciated, not just for the work that they do, but also as persons. – Megan Bertrand #leadershipwithheart Click To Tweet
---
Mentions
Connect with Megan on LinkedIn
Subscribe, rate and review the podcast on iTunes!
Listen to the podcast on Spotify