Today on the podcast we have Colorado Banking Commissioner, Patty Salazar.
I had an opportunity to speak at an event where she was also a speaker. We were sitting at the table and she was telling me about all the different things she was doing as a leader, and some of the challenges she may have had. But at the same time, I could see she was someone who's super open to change and just becoming better for her team, for the state, for herself, and just for everybody around her.
In this episode we talk about her leadership style, her heartfelt appreciation of her parents, her struggles as a strong Latina leader and the ways that she connects with her team.
Key takeaways:
Do the right thing

Its okay to speak without a filter if you are being yourself.

Ask for support for those around you. Don't feel like you have to do it alone

You can't be everything to everyone

Make your leadership style situational to meet the needs of your people
Enjoy this very candid discussion!
Patty Salazar serves as the State Bank and Financial Services Commissioner at the Colorado Department of Regulatory Agencies (DORA) directly overseeing two distinct divisions – the Division of Banking and the Division of Financial Services. She previously served as the Deputy Director of the umbrella regulatory agency.
As the Commissioner, Patty has focused to modernize rules and regulations and has greatly expanded the Division's engagement efforts, including spearheading an ongoing financial literacy campaign involving multiple DORA divisions. As the deputy director, she directly supervised the agency's collective legislative efforts, performance and strategic planning, and external affairs for the Executive Director's Office as well as provided direction to nine distinct regulatory divisions. Additionally, Patty directly oversaw the Colorado Office of Policy, Research and Regulatory Reform which is responsible for providing legislative and administrative recommendations for least burdensome regulations while still ensuring consumer protection for regulatory programs across the state. 
Prior to moving to Colorado, Patty previously served at the California Department of Business Oversight, the state's financial services regulatory authority, where she served as the deputy commissioner responsible for public affairs, policy development, communications, strategic planning and statewide outreach programs. Previously, she worked for the California and Nevada Credit Union Leagues advocating for legislative and regulatory issues regarding financial services and consumer protection. Before joining the trade association, she served as a consultant to the organization as well as other for-profit and nonprofit clients on public affairs and strategies related to local, state and federal legislation. 
Patty earned a Master of Public Administration from the University of Southern California and a Bachelor of Science in Sociology from California State University, Northridge. Although a California girl at heart, she has found a new home in Rocky Mountain hiking trails, her Denver Center for Performing Arts subscription and exploring the robust Colorado food scene.
It Depends on the Situation
How would your team, that's now been under your charge for five months, how would they describe your leadership style?
That question is usually a little hard to answer because I truly do think that it's situational.

There are times where I have to make a very quick decision, own it, and run with it, and of course communicate it with them later. However, I think my leadership style of preference would be far more collaborative, including folks in the process as I'm making a decision.

Primarily because they're really the brain trust of our agency. I only know so much, and the one thing I know for a fact is that I don't know everything.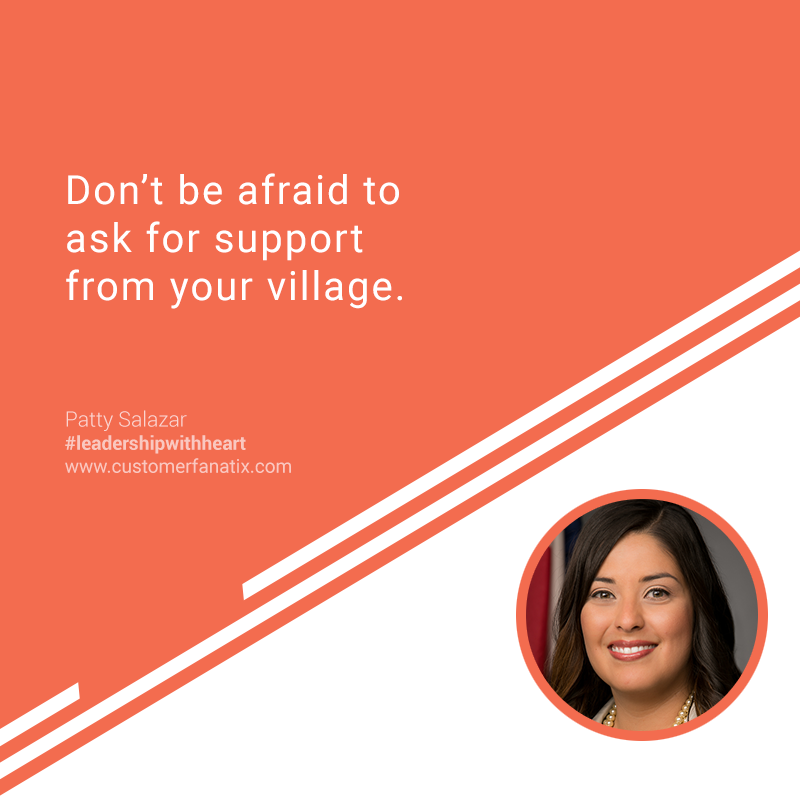 And so I really do depend on the great people here that have decades of knowledge that I would just never be able to have, to really help me make those really hard-pressing decisions.

Even at that though, once I make the decision, I know that I'm the person who's accountable for it. If it goes successfully, wonderful. If it goes astray, that's also my responsibility and take ownership of that.

There's often situations though where I trust them enough to not even be involved in the decision-making process.

Communicate, and make sure that we're all sharing the same vision and communicating with each other, and building that mutual trust and respect to get us where we want to go. #leadershipwithheart Click To Tweet
Seeds of Leadership
To a large extent, a lot of us have some of that drive of wanting to make our parents proud, but I can hear it more in Patty's voice. Patty shares that it was her parents who inspired her to be a leader.
By far, my favorite people are my parents, because they, to me, epitomize what good character and integrity are.

Given the fact that I've been so fortunate in my life, the one thing that drives me every single day is to make my parents proud, and just to acknowledge that all of their sacrificing, and trust in me and faith in me is paying off. And I'm doing that by contributing back to the state that I live in and my community and staff.
What You See is What You Get
Valuing authenticity. With me, what you see is what you get, and I say that as the director of my division, but also someone who has to work with our business community and our community organization.

I'm not here to do anything disingenuous; I want folks to know that I am transparent and that I'm trying to do the right thing. #leaderswithheart Click To Tweet

Sometimes folks don't like that.

I know I'm on a podcast but people can't necessarily see what I look like, but I am a woman of color who is leading a division. Granted, there is great diversity in our state, but as I had mentioned when I met you, I'm only the second woman in my position – and I'm the first person of color in my position.

Sometimes that makes people feel a little uncomfortable, and that's okay.

Because at the end of the day, all I can do is just really hold my head up high and know that I'm doing the right thing – at least what I believe is the right thing. And that I'm not trying to make anyone feel uncomfortable; I'm just trying to do what I'm do with integrity and openness.

It's who I am.
Part of my journey has just been learning to be OK with just saying what I say, so long as I'm authentic when I'm saying it. #leadership #authenticity Click To Tweet
Leaders should be OK with not being able to do it all. #leadershipwithheart Click To Tweet
---
Mentions
Connect with Patty on LinkedIn
Subscribe, rate and review the podcast on iTunes!
Listen to the podcast on Spotify