Today on the podcast we have Chief Ray Aguirre of the California State University-Fullerton campus about his leadership journey, what drives him to lead and very practical, yet impactful ways, he connects with his team and builds trust.
Key takeaways:
Leaving a legacy doesn't mean that we are forcing the fact that we are known for something once we are gone, but that the way we live our lives and display professionalism and compassion at work leaves its own impact.

We can learn just as much from bad leaders as we can good leaders.

Leaders need their people to know that they are prepared to get in the trenches with them and that they have been there.

Leaders of organizations must take a macro view to understand all that is going on inside and outside of their organizations.

Leaders seek out mentors to help them get stronger.

Leaders should take the time to connect on the personal lives of their people.

It's the little things that endear your people to you.
Don't miss listening to the rich conversation Heather has with the Chief and some powerful tactical tips he left us with.
Raymund "Ray" Aguirre started his career in law enforcement in 1997, attending the South Bay Regional Police Academy in San Jose, California, and working for the Palo Alto Police Department in the peninsula area of Silicon Valley. While assigned to patrol, Aguirre worked mostly the northern and southeastern beats of Palo Alto, neighboring the cities of East Palo Alto and Mountain View, where heavy narcotics, criminal and gang activity were well known. He also gained his initial exposure to educational law enforcement during the same time as a police officer with the Foothill-De Anza Community College Police Department in Santa Clara County.
Aguirre was promoted to Sergeant in 2002, and had previous assignments with the Field Training Officer program, Firearms Instructor program, and Investigations. As a Sergeant, he oversaw Investigations, the Backgrounds Unit, and Internal Affairs. As a supervising investigator, he primarily worked financial crimes and sex crimes, often teaming up with veteran San Jose police detectives on cases involving human trafficking, and child pornography, many of the cases involving multiple jurisdictions across many states.
Aguirre took on the position of Chief of Police for the San Jose/Evergreen Community College Police Department in 2006, where he was in charge of a dozen officers with a desire for positive leadership and progressive development. Aguirre transformed the agency into a proactive group of police officers, being one of the first to implement body-worn cameras in Santa Clara County in 2012, and other innovative crime-fighting technologies such as license plate recognition readers, and mobile field ID devices, among others.
In 2014, Aguirre took on the role of Chief of Police for the San Diego Community College Police Department, where his emphasis on professionalism, leadership and mentorship, training and retention, equipment modernization, proactivity in crime suppression and community policing, remained top priorities.
More recently, he was selected to become Chief of Police for the California State University at Fullerton, Police Department, in March 2018.
Aguirre has a Bachelor's degree in Sociology from the University of the Philippines and a Master's degree in Public Administration and International Relations from the University of Pittsburgh. His memberships include the IACP, the California College and University Police Chiefs' Association (CCUPCA), FBI Law Enforcement Executive Development Association (LEEDA), the Orange County Chiefs' and Sherriff's Association, the San Diego County Police Chiefs' and Sheriff's Association, San Diego Pan-Pacific Law Enforcement Organization (PANPAC), National Asian-American Association of Law Enforcement Commanders (NAAALEC), the International Association of Campus Law Enforcement Administrators (IACLEA), and the National Asian Peace Officers' Association (NAPOA). Aguirre has lectured in law enforcement classes in California, as well as for college administrators nationwide.
Prior to law enforcement, Aguirre worked in private security, as well as with the Military Intelligence community while still living in the Philippines.
Aguirre is fluent in Tagalog and speaks conversational Cantonese, having spent his early childhood living in Hong Kong. He is the proud father to 22-year old son, Matthew, a graduate of California Polytechnic University, San Luis Obispo, California. Chief Aguirre enjoys global travel every chance he gets.
Having Role Model Parents
I asked Chief Ray, "What is it that drives you to lead other people?"
I've asked myself this question many times in my career, and in my lifetime. I am very fortunate to say that I really had stable and good role models, primarily my parents. My father was in the military, and a good balance to that was my mother who was a social worker. 

The regimented component of my dad's profession and his lifestyle was really attractive to me. On the flip side I saw my mom's social intelligence which was a good balance to keeping my dad in line, I guess.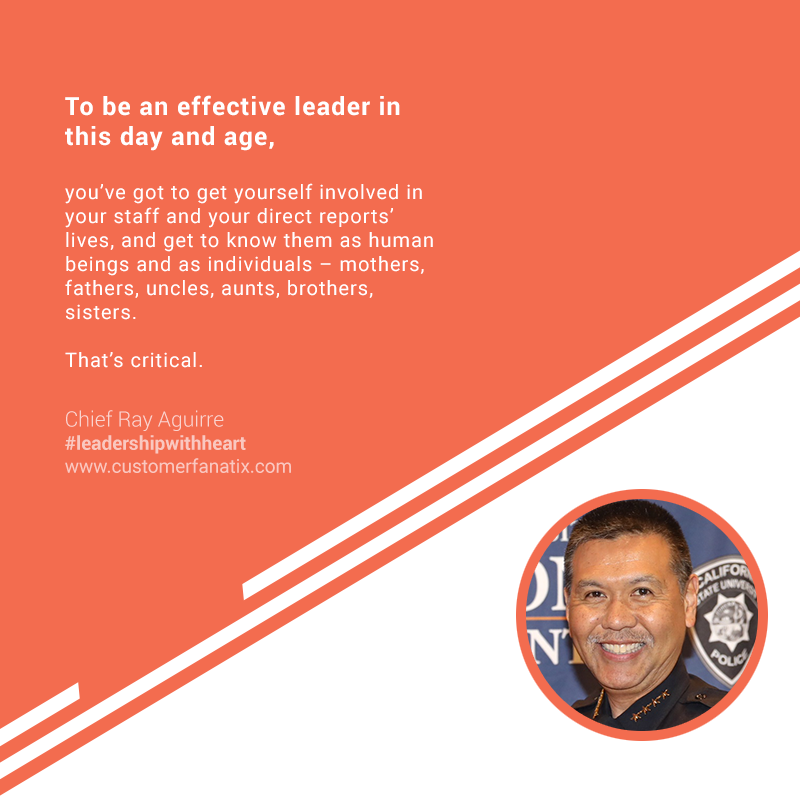 A combination of both perspectives really prepared me to pursue my career in law enforcement. But this is not to say that anybody outside of the experience I had would fail in law enforcement. 

The legacy of my parent's lives helped me get to where I am and I am very thankful for that.
Guided by Principles
We, as leaders, have different priorities in terms of leaving a legacy. I have to be honest though that I don't really think much about leaving a legacy.

But I do my work, primarily focusing on what I believe is the best thing for the organization as the leader, and how I can provide the needs of the department whether they are individual needs or collectively as an organization, and I am guided by a set of principles – fairness, respect, compassion and professionalism.

This could be the legacy that I will eventually be known for.
Impact people's lives, one at a time, by how you act and how you walk about your journey. #leaderswithheart Click To Tweet
Having Self-Discipline and Competent Staff
I believe that self-discipline is critical on the leader. You have to know what your priorities are. As easy as it may sound, you can't let your emotions rule you, you've got to stay on task, you have to set your priorities and be really disciplined on setting those priorities.

And another critical element in my mind on what a good leader does is you've got to have competent staff so you can delegate tasks because you can't do everything.

You've got to have competent staff who can carry out the mission for you. We are not going to be there forever, I am not going to be in law enforcement forever and so when I retire I need to feel confident that I paved the way for the next generation of leaders, making sure that the organization will continue as smoothly as possible.
To be an effective leader in this day and age, you've got to get yourself involved in your staff and your direct reports' lives, and get to know them as human beings and as individuals – mothers, fathers, uncles, aunts, brothers,… Click To Tweet
I always believe that if your subordinates know that you truly are interested in what goes on in their lives on a personal level, they'll be much better performers at work for you. #leadershipwithheart Click To Tweet
Building the trust and confidence they have for you goes a long way. #leaderswithheart Click To Tweet
We have annual awards for our employees, but outside of that, it's these little gestures, I believe, that really count. #leadershipwithheart Click To Tweet
If you're in a dilemma right now and you don't know what the next steps are to lead effectively, go seek a mentor. #leadership #mentorship Click To Tweet
---
Mentions
Connect with Chief Ray on LinkedIn
https://www.facebook.com/CSUFPD/
https://www.instagram.com/csufpd/
Subscribe, rate and review the podcast on iTunes!
Listen to the podcast on Spotify