Subscribe to the Leadership with Heart Podcast:
In this episode, Heather Younger speaks with Arlene Mendoza, Senior Innovation Program Manager at Alluma about her leadership style, her drive to lead, her time when she did not shine as a leader and her ideas about iterating our leadership style.
Key takeaways:
Listen to yourself and then to others.
Think of leadership as an iterative process.
It is okay to decide to move in a different direction instead of being miserable in your current role.
We lead more effectively when we are using our best talents.
Don't miss the pearls of this wonderful episode. Listen, learn and stay safe!
Arlene Mendoza is inspired in bringing to life projects, ideas, opportunities with a curious heart, strategic mind, and always pushing the envelope on what is possible. She is driven by challenges and the possibility of co-creating and delivering on that which hasn't been done before.
With over 10 years of corporate experience, Arlene's focus has been re-imagining 'value propositions' as it relates to new businesses within Fortune 100 companies and developing executive client engagements/client partnership content for emerging technologies in the SaaS market. She loves bringing new perspectives to sales and business development with the use of design thinking and a values-centric approach. Arlene is the bridge and connector between the technology offering and the value-add it will provide to the overall business for my clients. She also searches for unique approaches with a natural ability to be both analytical and creative incorporating human centered design into scaling tech solutions to increase and tap into our human potential.
She is an owner of a consulting firm and an investor with SheEO (women led fund). She currently sits on the Board of Directors of a Minority Owned Civil Engineering firm in Long Beach, CA – Moran Consulting as well as the Ignite Leadership Institute at the Pacific School of Religion in Berkeley, CA.
Ask, Iterate, Listen
I have a bit of a beginner's mind. For the last 12 years, I was in the corporate and now I moved into the tech nonprofit  space. I am growing and learning on how to translate my skills, and also developing new ones, learning from others, and reflecting a lot.

This journey is an iterative process and an art, because there's not one course you can take or one book you can read. I listen to a lot of podcasts and I read a lot of different books. It's very personal. 

It took me a while to understand my own secret sauce or super power. We do certain things in our normal ways and it takes others to recognize or comment on them to work. I think part of this journey is the ask, and the iterate, and the listen.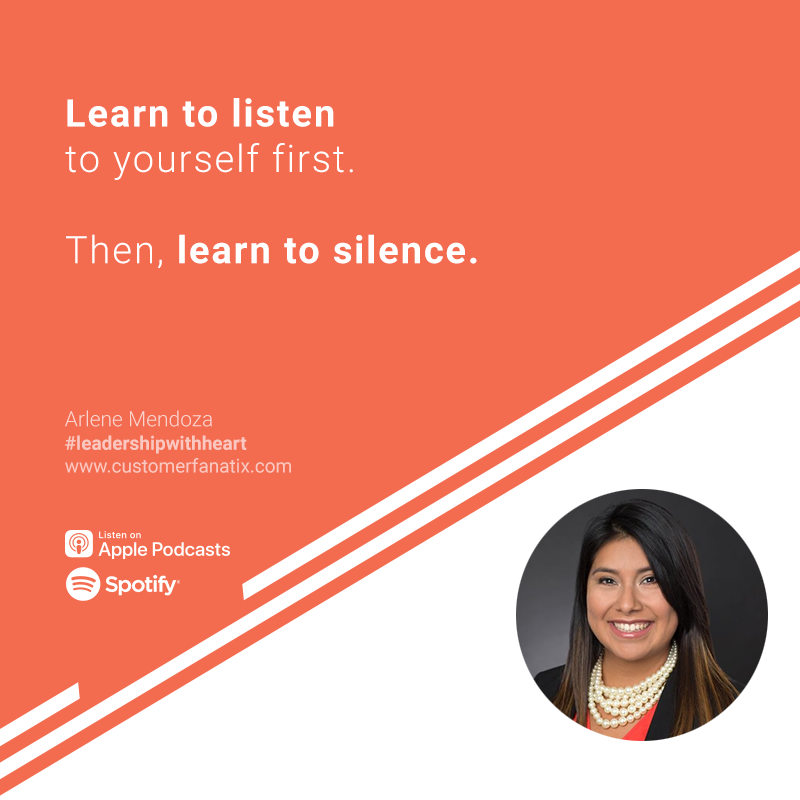 I think leadership and growth are not isolated events. – Arlene Mendoza #leadershipwithheart Click To Tweet
Be Curious, Stay Curious
I can remember when I was four. I was sitting with my family at a very formal family dinner. Everybody said no elbows on the table as a rule. But one of the older gentleman had his elbows on the table. It was okay for him, but nobody else could do the same. I remember thinking at a really young age, "Why do we have to be like this? Why can't I also have my elbows on the table?"

I imagined things could be different. I always asked, "What if?" or "Why not?" and "Why not me?" I believe there's this curiosity and exploratory part in me which I didn't acknowledge as related with leadership, as much as I acknowledged it with curiosity.

I have this expansive curious mind. As I imagine things in my life, I try to lift and go. "Why not live this way? Why not go after that degree? Why not go after grad school? Why not do this to hit that. Why not take action?"

I think it's just this curious rambunctious, optimistic part of me that believes that there's also a responsibility to be a voice. I feel this responsibility to be curious and stay curious and to navigate new ways of doing things.

My dad had modeled for me the need to figure things out. So, when I come to him with a problem, I better have tried or have assumed certain things, and don't just say that something was broken. I think that this made me extra resilient. Meanwhile my grandfather was an explorer. He liked travel and meeting people and has a "The world is my oyster" mindset. I believe this culture and this view the world has been infused a lot in my leadership style.
It isn't always second nature that certain things work. – Arlene Mendoza #leadershipwithheart Click To Tweet
Instead of listening to respond, listen to understand. – Arlene Mendoza #leadershipwithheart Click To Tweet
Taking Pivot, Making Changes
In my last role before leaving corporate, a lot of reflections came out. I felt that I was not showing up and my heart wasn't working the way it used to be. For a couple of months, I was doing a poor job. Mainly it was really difficult to understand and to just tell myself that it's okay to take a pivot to make a change, and to look for another opportunity.

I knew that there was a shift that needed to happen, and I made a decision to leave the company. It was an opportunity for me to explore a new path. I had to give myself the permission to contemplate that my work, although it's not reflective of my potential and it's not up to par, doesn't mean that I am a failure.

I can. I have a choice. I can search be in search of another opportunity.

It took somebody to tell me: You have a skill set. Know that the opportunity for you is out there. Believe that you can go and find it. You can shine elsewhere. If it doesn't work, don't be so hard on yourself. Just try again.
Listening to understand is a whole different dynamic, because it's about extracting and understanding what the other person is trying to communicate to you. – Arlene Mendoza #leadershipwithheart Click To Tweet
Sometimes you need external touch points and reflections to help move you. – Arlene Mendoza #leadershipwithheart Click To Tweet
---
Mentions
Connect with Arlene on LinkedIn
Subscribe, rate and review the podcast on Apple Podcast
Listen to the podcast on Spotif