GUEST POST:
This week, I am pleased to introduce our guest blogger, Veronica Littleton.  She is the Architecture and Design Manager for Knoll, a world renown furniture manufacturer and design thought leader.  As you will read on, employee engagement encompasses more than just leadership, ones contributions to a team.. more and more data reveals that an employee's physical workspace impacts their holistic employee engagement, productivity and innovative output.
What ways have you noticed how your own workplace can help or hinder your level of engagement or productivity?  
Enjoy!
[hr]
Modern advancements continue to accelerate, disrupt and otherwise rewrite how we connect, communicate and collaborate today.
First and foremost are changing workstyles: As the workplace has changed, so too has the deskbound employee, hierarchical leadership and traditional workplace model. Priorities have shifted as well. In the new economy, highly-process driven, task-based workstyle of the 20th century has faded away. Knowledge and experience are highly valued while immediacy, information and innovation are the most highly prized currency.
Creating a holistic, engaging customer experience is one strategy companies use to differentiate their brands in a competitive global marketplace in which goods and services are highly commoditized.
The adoption of this strategy to create memorable experiences to keep their own employees engaged and happy, in a workplace-as-an-experience scenario. This strategy is one of the hottest topics in every C-Suite right now. How do we continue to not only attract the top talent, but retain the talent we already have by giving them an experience they can't have anywhere else.
Finally, inspired by the success of technology firms and creative agencies, established companies from numerous industries are reinventing their culture to model startups. They hope to foster a similar level of innovation and productivity to generate the growth that will propel their firm to new levels of success and market leadership.
Changing workstyles and the influence of startup culture have reshaped the role of the workplace from a static building to a highly interactive experience. Companies today are charged with engineering serendipity in the office to a certain extent. They are tasked with creating a place that not only fosters innovation but allows for "positive disruption" in the workplace as well.
The workplace has moved from being a location to get work done to an environment to foster, culture brand and community. From a place where architecture prescribes space to a setting where the actions of people define the space. In effect, it moved from the office as a building to the workplace as an experience.
The Workplace Affects the Ability To Compete for Talent.
Some statistics to underscore the criticality of the workplace include:
80% Consider physical office environment an important part of company culture, yet 70% of respondents were unsatisfied with their company's culture.
24% of worker satisfaction metrics are attributed to aspects relating to the physical workplace
One's physical workplace can impact an individual's performance by 5%, and team output by 11%
Over 3 in 4 millennials are spending money on desirable experiences over possessions. (So if a majority of your workforce wants a memorable experience, why are we not designing for those meaningful moments in the workplace?)
The Workplace as an Experience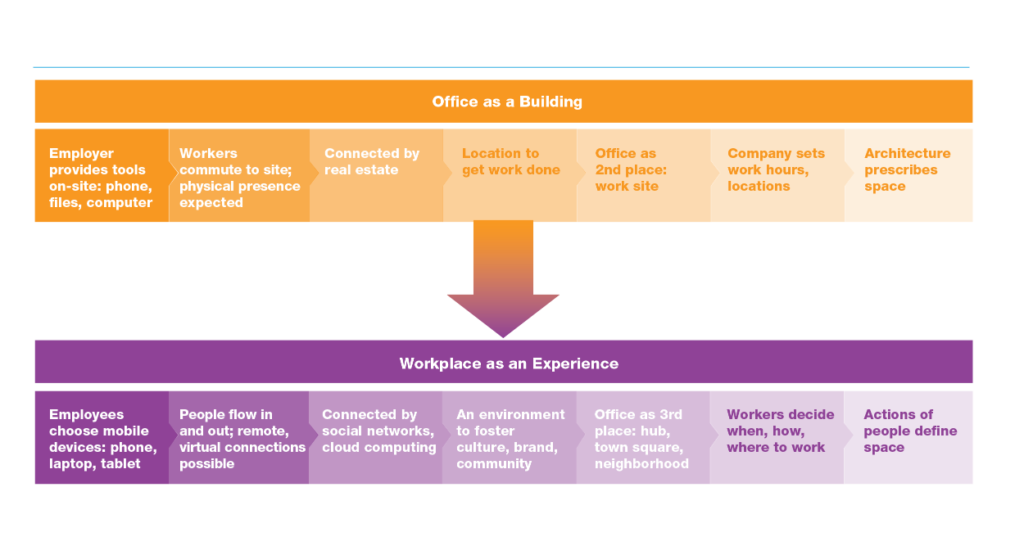 Through research and design, Knoll understands the disruptive transformations that occur globally in the environments where work takes place.  Most recently, Knoll undertook a series of studies with a twofold goal: To identify trends of a business environment in flux, and to realize how forces of changing complexity, speed and style were transforming the workplace.
Based on our findings, we identified a new way to think about space. Defined as Immersive planning, the planning approach not only blurs the lines between work, life and play, but also individuals and teams, primary workspaces and activity spaces, and owned and shared work areas and tools. The space is as fluid as teams themselves. As workspaces become defined by an individual's actions rather than job function, the lines between space types diminish; enhancing interaction, inviting connected experiences and radiating a sense of hospitality at every exchange.  Comfortable furnishings and fluid boundaries characterize this group-based workplace where the actions of the people themselves define the space. The result: an environment that creates a variety of experiences, transforming at a moment's notice and evolving with use.
Comprised of three fundamental elements— Improvisational, Communal and Dimensional —the model cultivates an environment of dynamic flow, constant movement, meaningful interaction, creative group effort and innovation within a gracious and welcoming setting.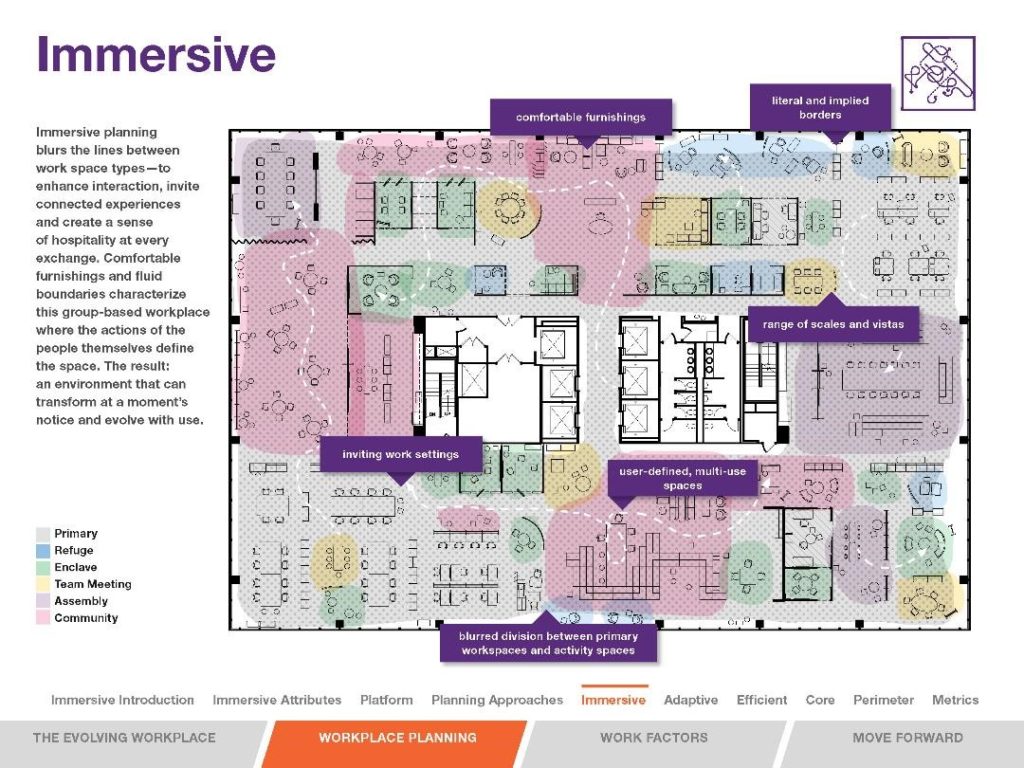 For the full white paper, please visit www.knoll.com "Immersive Planning, From Research to Realization: An Experience-based Workplace"
Contributor: 
Fueled by a passion to better understand how work is done today, Veronica Littleton helps clients shape their work environments.  As the Architecture and Design Manager for the Knoll Phoenix region, she utilizes her expertise and creativity to inspire organizations in challenging the status quo.  Begin a dialogue with her at vlittleton@knoll.com.
[hr]
Thank you for reading this guest post. When we begin to think about employee engagement and experience, it includes where your team members actually work. I talk a lot about how leaders drive the employee experience and this is no different. Organizational leaders decide where to invest. Designing a work space that is open and collaborative to promote connections and team-building is a critical investment.
Please Share this article with those whom you think might benefit. I would also love to read your ideas about how work space contributes to your connections at work.
Cheers to connection!