When you want to accelerate your growth as a leader and scale to a larger role, Jennifer Butler tells us that we must set clear expectations with our team, be transparent about how we need help and lead with the heart. She cautions us not to let go of the deep connections we have with our team members and to lead with a sense of self. In short, be a leader with emotional intelligence. The end result, grow your influence and your team's trust of you all at once!
Ms. Jennifer Butler is currently the Head of U.S. and Chief Commercial Officer of Tessa Therapeutics, an oncology biotechnology company.  Jennifer has over twenty years of pharmaceutical and biotechnology experience across several therapeutic areas and functions, including global marketing and analytics, sales management, and corporate strategy. She worked previously at Merrill Lynch in Equity Capital Markets and the Biotechnology Group of Thomson Financial Services. Immediately prior to joining Tessa, she spent eleven years at AstraZeneca and MedImmune, the Biologics Division of AstraZeneca. Ms. Butler most recently served as the head of global launch preparation and commercial strategy for AstraZeneca's late-stage immuno-oncology programs, Imfinzi™ / durvalumab (PD-L1) and tremelimumab (CTLA-4). Ms. Butler holds a B.A. in Biological Basis of Behavior from the University of Pennsylvania.  She lives in Northern Virginia with her husband and three children.
Today on the podcast we talk about what defines her as a leader, the different ways you can connect with your team in a deeper way, and a lot more.
Click the play button below to listen to the rest of the episode!
Individualization
When asked what defines Jennifer as a leader, her answer was, "Doing unto others as done unto you. " Jennifer had people in her life who decided to coach her as an individual. They looked at Jen and said, "What makes Jen unique and distinctive?"
She grew up in a family that didn't have defined roles. Maybe it was because she grew up with all sisters and therefore they just got allocated the chores; the lawnmowing was not necessarily assigned to a male in the house.
Jennifer felt like she has taken a very individualized path, and it took her a long time to realize that. A woman she worked with introduced her to an assessment tool called Strengthsfinder and found that her number two result was Individualization.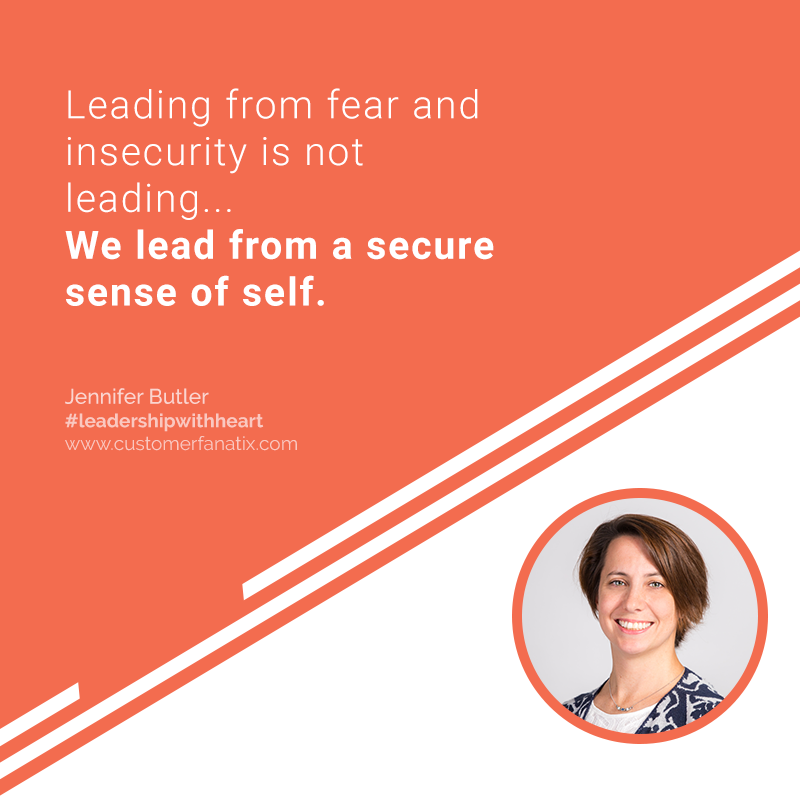 When she read the description, it really resonated with her because she really does seek to understand people, and fundamentally believes in my heart of hearts that there's the best version of you that's possible.
Insecurity will not make you a better leader
About four years ago, Jennifer was asked to be a manager over a function she had never worked in before. She was given an opportunity to manage a sales team of 70 people, and she was terrified. She didn't have the "technical experience" when it comes to sales.
But instead of going in and asking the team for help, she decided to go in and exude an exorbitant amount of confidence. She was determined to not let her new team know that she didn't know what she was doing.
But they DID know, because they read her resume, and that was actually making that team more insecure about her.
The point is, instead of acting like a leader who knows it all, you should be authentic and tell them what your strengths are.
"If I had just led from the heart, showing that I cared for them as individuals and as a team, providing support to enable and empower them, recognizing that they already have a great thing going on and I'm just there to bring a new perspective – that would have been so much better."
The difference between a leader and functional expert
She had been working with the same sales team for six months, and it was about time for them to give her some blind feedback. She knew that day was going to come.
But she was surprised by what they said:
"We just need Jen to give us the vision and we will follow her. We know what she is, we know that she doesn't have the technical expertise in sales, but if she sets the vision, we're going to follow."
That's when she began to learn the difference between being a leader and being a functional expert. She considers it a gift that her team gave her that feedback. They were positive and said, "We could do so much more if she just asked for help."
Mentions
Connect with Jennifer on LinkedIn
https://www.tessatherapeutics.com