Subscribe to the Leadership with Heart Podcast:
In this episode, Heather speaks with Don Davis, County Manager for Jefferson County, Colorado. Don shares about his leadership philosophy and vision, and a time when he was not the best leader he could be. He also sheds light on the difference between helping people get the tools they need to do their jobs and meeting their wants and needs. 
Key Takeaways:
Leaders should help their people understand who they really are.
Vulnerability is not a weakness.
Have a vision. Write it down. Post it, and then share it.
Manage things and lead people.
No one cares how much you know until they know how much you care.
This episode is fully packed with helpful insights. Listen and learn!
Don Davis joined Jefferson County as county manager in May of 2017.
From 1990 until 2017, Don served his country in many different roles, locations and commands. He was deployed numerous times, including to Iraq in support of Operation Iraqi Freedom and Afghanistan as the Commanding Officer for Marine Corps Logistics Command Forward. The last few years of his career in the Marines, he assumed command of the Marine Corps Logistics Base in Albany, Georgia for three years and then was the Chief of NORAD-NORTHCOM Theater Strategy and Campaign Plans Division.
After he retired from the military at the rank of Colonel, he moved on to his next adventure as County Manager, serving the citizens of Jefferson County, Colorado. He joined Jeffco in May 2017, where he enjoys serving alongside more than 3,000 dedicated employees.
Don is a graduate of the Marine Corps Command and Staff College; the Amphibious Warfare School; the Executive Leadership Program from the University of North Carolina Chapel Hill – Kenan-Flagler Business School; and the Marine Corps Executive Logistics Education Program at Penn State. He holds two master's degrees; one in Public Administration from Webster University, graduating with high honors in March 1996 and a second in Strategic Studies from the Marine Corps War College in 2011.
Don, born in 1968 in Dover, New Jersey, graduated from Dover High School in June 1986. He attended Rensselaer Polytechnic Institute in Troy, New York, receiving a Bachelor of Science degree in Management and was commissioned a Second Lieutenant in May 1990 in the United States Marine Corps.He and his wife, Becky, have been married 29 years, and have been blessed with four children; Kaitlyn (27), Mackenzie (25), Jack (18), and Luke (16).
Public Service
I think this is a culmination of my service in the military, leading America's finest men and women around the globe, to continue public service at the local level. It has been pretty amazing and a great opportunity for me.

My drive to lead started during my freshman year in college. I was immediately indoctrinated into the military where I understood the gravity of the service that I was about to enter. After I graduated, I fully understood that I was going to lead men and women, and sons and daughters, the most precious gifts that parents could give to the country. It was a pretty tremendous responsibility.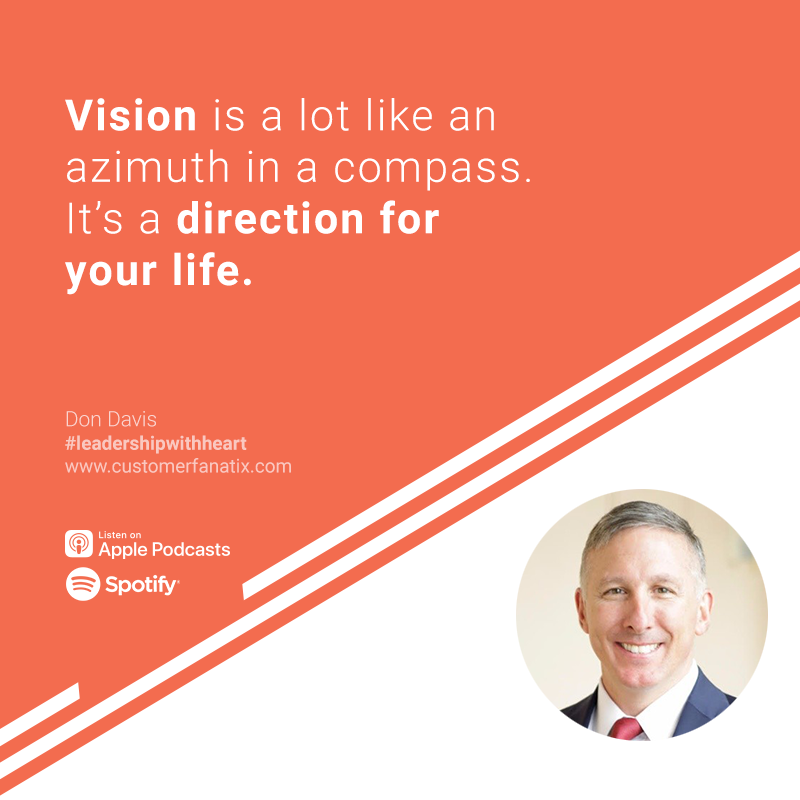 As a leader, it's really hard to develop if you do not know yourself. – Don Davis #leadershipwithheart Click To Tweet
Knowing Yourself
In Jefferson County, we have a leadership academy which focuses on not teaching people technical leadership skills, but teaching people who they are. One of the leadership traits and principles in the Marine Corps and in the military in general is to know yourself and seek further improvement. 

If we can teach leaders that, then we break those barriers down. Then, we tear down all of the walls and the defenses that they have placed around to protect themselves. As a result, they become more willing to be vulnerable.

For others, they view the military people to have "Big Tough Guy" mentalities. But I tell you, vast leaders in the military exhibit all the best leadership traits that any organization would find valuable. 

When a life is on the line and time is of the essence, you don't have time to discuss and brainstorm. So, in times of crisis, you need immediate obedience and response. 

But all the other times, we are collaborative. When you have the time to deliberately plan and discuss, I don't think there's a more collaborative organization in the world than the US Military. We work together and come up with answers that nobody else would think of.
You lead men and women, so you got to have a direction for your life. – Don Davis #leadershipwithheart Click To Tweet
Life Compass
Back in my days in the military, we used compasses for land navigation. We have to have an azimuth, which is a general direction that you follow in order to get to your destination.

When you come upon obstacles, like a river or a lake, you point the compass across that obstacle. Then, you find the reference point. Afterwards, you put the compass in your pocket, then you maneuver and walk around the obstacle. Next, you get back on your reference point, and then, you take the compass out of your pocket. Lastly, you get back on your azimuth.

Vision helps you in the good times and in the bad. You could get blind by the peaks of success or you could get lost in the valley of despair and troubles. But, you need to have a vision to direct you.

There are four things about a vision. First, you should have one. Second, you should white it down, so that you could remember it. Next, you should post it somewhere where you can see it, and remind yourself of it everyday. Most importantly, you need to share your vision with those around you, so they can keep you on task and on target. If you don't share it, who is going to help you get back on your course?
You need to share your vision with those around you, so they can keep you on task and on target. – Don Davis #leadershipwithheart Click To Tweet
All people are created equal. – Don Davis #leadershipwithheart Click To Tweet
There's a lot of different ways to mould leadership through mentoring and guidance. – Don Davis #leadershipwithheart Click To Tweet
---
Mentions
Connect with Don on LinkedIn
Subscribe, rate and review the podcast on Apple Podcast
Listen to the podcast on Spotify