Subscribe to the Leadership with Heart Podcast:
In this episode, Heather speaks with Cori Burbach, Assistant City Manager, City of Dubuque in Iowa about her drive to lead, a back drop to the type of leader that she is and her compelling story of a time when she was not the best leader she could be. 
Key takeaways:
Stand out. Be the leader who rolls up your sleeves and gets into the trenches with those you lead.
Understand that what you do or fail to do, and what you say impacts those you lead.
There are some workplace issues that cannot be fixed with just reading an article or changing a policy.
Focus on doing organizational knowledge transfers so that your learning is not lost on you.
Get comfortable with being uncomfortable if you want to lead.
Make your relationship with your people personal and not robotic.
Figuring out what your employees want and helping them is not just good to do. It is also strategic, as unlocking their potential helps meet their vision faster.
Find a mentor or a coach on this journey.
Note that this has racial undertones, but you will surely be inspired as you listen. Don't miss this gem of an episode!
Cori Burbach is Dubuque's assistant city manager since 2017.  Prior to that, she served as the Sustainable Community Coordinator in 2009.  
As assistant city manager, she assists the city manager in directing the day-to-day operations of the City government and plays a key role in creating a more data-driven, high performance organization focusing on outcomes, including cross-departmental cooperation and integration with performance measurement and evaluation.  
Cori received her Masters in Public Administration from the University of Delaware and worked for local and state governments in Delaware, Pennsylvania, Wisconsin and Iowa before coming to the City of Dubuque.  She is a member of the International City/County Management Association, and Dubuque Young Professionals. Her community involvement currently includes serving on the boards of local nonprofits such as DuRide, Creative Adventure Lab, and Operation New View community action agency.  
She is a mom to two beautiful children, Xander and Zoe.
Great Curiosity
I am at a point where I feel like, "Now I know the things I don't know."

I have worked with inspirational mentors. Also, I had the chance to do projects that have stretched me around emotional intelligence and leadership development. I am at a place where I have opened my brain up to the things I want to explore and allow to grow within myself. Right now, I am figuring out what to do next, and how I can make those things happen. I'm in the middle of this great curiosity.

It's important to have a clear vision. More importantly, I'm willing to roll up my sleeves and get the work done alongside the people, doing whatever we need to do to make an impact.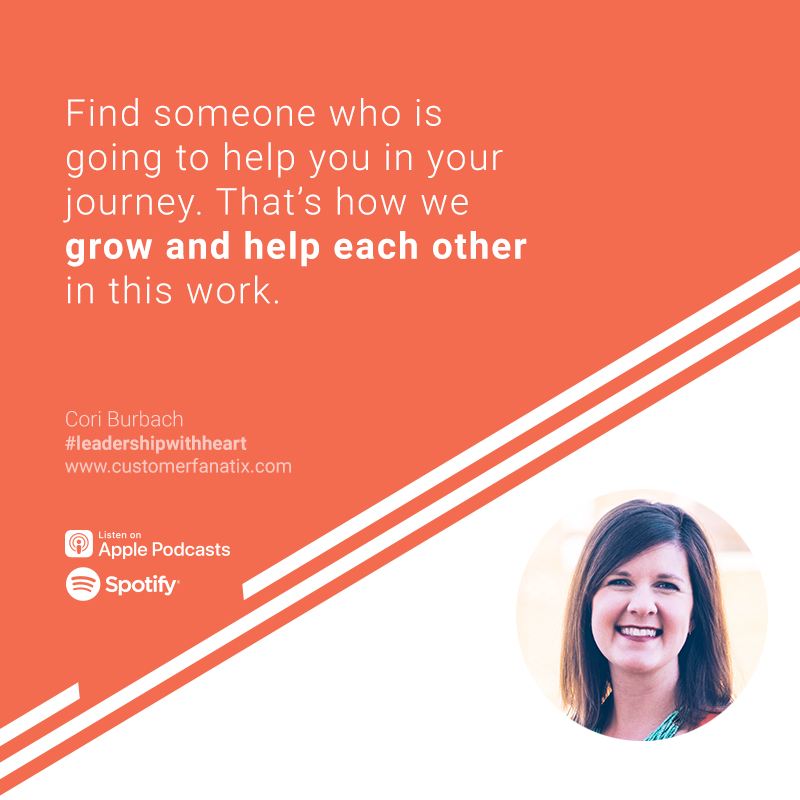 Sometimes, as leaders, we feel all of the pressure to be able to stand up in the middle of the room and have the right answers. – Cori Burbach #leadershipwithheart Click To Tweet
Parental Instincts
I was the weird kid in my freshman year in college who declared that I wanted my major to be public administration. My professors looked at me and said, "People do not even know that this is a major."

I always knew that I had this drive for public service in local government. Now, I have this opportunity to be a leader not just for my organization and for the city, but also for the community.

When I think about the community, I think about every community member almost in the same way I think about my kids. 

What kind of community do I want my kids and other children in the city to grow up and live in? That is what drives me even in the hardest days. I am very lucky to be in this position. Many people do this through volunteer work, but I do them through my job. How cool is that?

We have about 700 employees and they feel like family to me. Most days I spend more time with them than with my own family. 

I think it is something that parents give a lot. It's almost a maternal or paternal feeling of how to help the community, particularly helping the people to show up and serve every day.

Especially in the public sector, most of our employees have that kind of parental instinct. They show up because they want to make a difference too. So, how can I help them do that?
It is hard for most leaders to come from a place of vulnerability. – Cori Burbach #leadershipwithheart Click To Tweet
Growing Pains
We have been a primarily white organization and community for many years. Just like other communities, we are experiencing growth and diversity which is awesome. Now, we have been really working hard to recruit and retain that diverse work force. Also, that means a lot of growing pains.

We're going through trainings. We're working on relationships. One of the topics we have been recently working on is about micro aggressions. It's an idea of a "death by a thousand paper cuts." Someone might not say something that is explicitly racist or sexist, but they do not even know that how or what they are saying is impacting somebody.

If we're going to make an impact on racial and gender issues in the organization, you cannot just read an article and have a policy in it fixed. I realized that when I say things related to these issues on whatever intent I have, there are physical, mental, and emotional processes they go through.

Leadership is about vulnerability and about being brave. Even when you don't know how to react when comments come up, you have got to say something.
We're going to make mistakes. But that's how we grow in our relationships and in our leadership. – Cori Burbach #leadershipwithheart Click To Tweet
How comfortable do your people feel around you? – Cori Burbach #leadershipwithheart Click To Tweet
We live in a world where the majority of the people do not trust the government. – Cori Burbach #leadershipwithheart Click To Tweet
---
Mentions
Connect with Cori on LinkedIn
Subscribe, rate and review the podcast on Apple Podcast
Listen to the podcast on Spotify