Subscribe to the Leadership with Heart Podcast:
In this episode, Heather speaks with Lon Southerland, Managing Director of ION*Biome at Seraphic Group, Inc., about his long history of leading for organizations like Marriott, Starbucks and 7-Eleven. Lon also discusses his past experiences and how it formed his current leadership filter, his great leadership learning, and his coworker's advice for him during the early days of his career.
Key takeaways:
Leaders must be effective in working with and through others to get more done.
Don't forget where you came from.
Stay connected with your team.
The ones who are closest to the customer and the employees can move the business forward most efficiently.
Know that most people enter a room with the best intentions. 
Seek the truth of the matter in every instance.
Stay in your seats as this episode will take you places! Listen and learn!
Lon Southerland joined the Seraphic Group team as Vice President of Operations in November of 2018. As Managing Director he is now focused on leading the Biomic Sciences/ION*Biome business unit. As the son of a resort owner in the Caribbean, Lon's interests have led to a career in global Food and Beverage (F&B) operations, where he has inspired teams to high standards of excellence. His diverse management experience most recently includes leading Illy Caffe North America as VP. He solidified record-breaking 100% top line growth at Illy Cafe.  
As EVP of Guest Metrics (BigData), he spearheaded a significant transformation of the food and beverage industry's operator technology, resulting in a 12 fold increase in income, vastly improving the customer experience for Disney, Marriott, Hilton and over 100 restaurant groups.  Before Guest Metrics, Lon led Marriott International's The Bistro – Eat.Drink.Connect® from concept to one of the most rapidly growing fast casual outlets in the U.S., overseeing 1,000 restaurants, opening one a business day and 2500+ coffee venues. Lon is also a frequent industry keynoter quoted by media including The Wall Street Journal and USA Today.  Lon's successful career has also included the receipt of the Starbucks "Built to Last" Award for vision and results in Mid-Atlantic expansion and development of the lunch program during his decade with the company.
As COO for a wholesale manufacturer he led 775% in annual growth, four consecutive appearances on the Inc.500, millions in cost savings, traditional and social media visibility for new concepts (enhanced by inviting bloggers to program rollouts for high-profile exposure), creation of 7-Eleven's $120M fresh food concept, and many other achievements that demonstrate a high bar of excellence and results-orientation.  Lon has a Bachelor of Arts, Business Management and Marketing, from Furman University.
Higher Purpose
I am one of those folks who love to get up in the morning and jump right into my role with my team. Throughout my career, I have had a lot of fun working with my past companies. It has been great working for large organizations. 

At the end of the day, it is important for me to be part of an organization with a purpose. I am happy with what I have been doing. I find joy in being able to bring a lot of value to the team. 

The opportunity to work for a company that does something for others brings a lot of gratification. It also brings in a lot of great likeminded folks who want to help the world.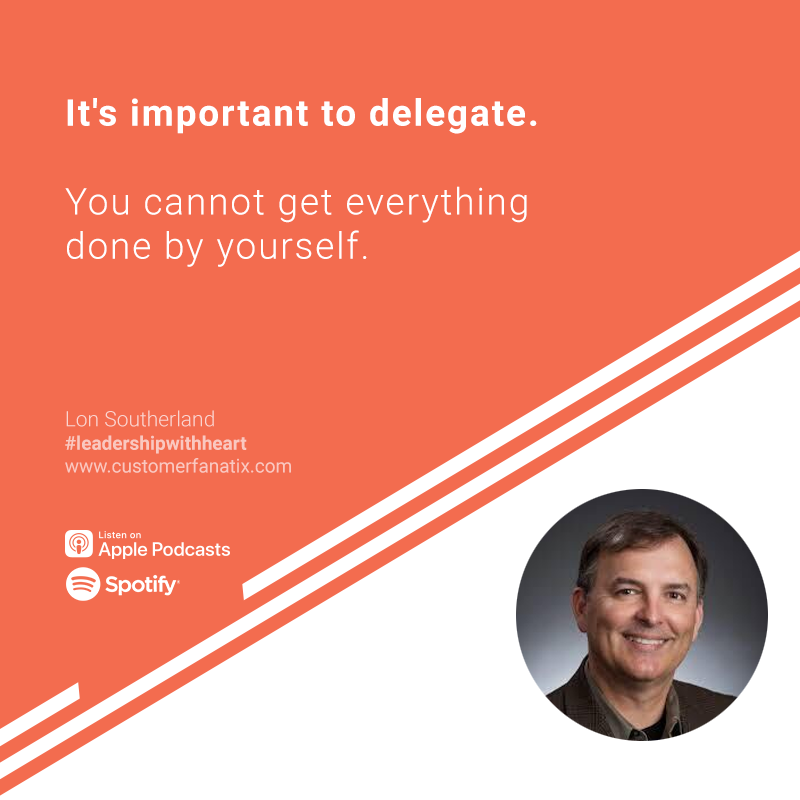 Getting things done through others can be highly effectual. – @IslandChap #leadershipwithheart Click To Tweet
People First
As part of the operations, the most important thing to do is to coach and develop our people. I believe that when we start with people, first and foremost, everything takes care of itself.

I learned that you can roll up your sleeves and do everything, but you are not going to get as much done as when you work with everyone by setting up systems and processes to ensure collaboration and completion of work. 

It is important to delegate and to be empathetic. In the long run, the team would rely on each other rather than coming to you for all the answers. This would allow them to show what they have got to rise within our group.

It has provided me an opportunity to take team members who are not in the best position for their qualities, and find them a better role, or help them recalibrate and recommit.

I have been very thankful for all of the people who took the time to develop me and helped me because I cannot just do by myself. Especially when you're young in your career and you have just started navigating through your organization, you just do not necessarily know things at first.

It is like when you are declaring a college major, and a lot of students just do not know what they are going to major in. But that is okay, because you do not have the experience on your belt to necessarily make the best decision.
Take care of your people and your people will take care of you and the organization. – @IslandChap #leadershipwithheart Click To Tweet
Peer Mentorship
Early in my career, the executive committee at my hotel in South Carolina recommended me for a corporate management-training program at the Hyatt Hotel. 

Roslyn was one of the ladies I have worked with at the front desk, before I was promoted. She said, "Lon, it has been great working with you. Congratulations on your promotion. Then she told me, "I want to leave you with one bit of advice. Don't forget where you came from."

I said to her, "What do you mean? I know where I came from!"

She started to say, "You know, a lot of times, I see people move up to the ranks. But the more distant they get from past positions, the more distant they also become to their staff. As a result they do not become the best leaders."

It was really a peer to peer mentorship. Also, I would really want to thank her for getting me through a career and getting me to places where I never would have known otherwise.
When we come in to a meeting, let's come in with really good intentions. – @IslandChap #leadershipwithheart Click To Tweet
Assuming good intent and seeking to understand addresses just about anything you're going to come up against as a leader. – @IslandChap #leadershipwithheart Click To Tweet
When we start with people first, soon everything takes care of itself. – @IslandChap #leadershipwithheart Click To Tweet
---
Mentions
Connect with Lon on LinkedIn and Twitter
Subscribe, rate and review the podcast on Apple Podcast
Listen to the podcast on Spotify