In this episode, Heather speaks with Greg Wathen, President and CEO of the Economic Development Coalition of Southwest Indiana about a recent post on LinkedIn from one of his employees, which sparked so much attention — over 3.2 million views, with mostly responses of admiration. Greg shares his unique leadership perspective, and some great advice on strengthening one's leadership.
Key takeaways:
Leaders must walk the talk.
Leaders need to deal with the facts surrounding their people's personal lives.
Think from the other person's perspective.
Do the little that means a lot.
Allow your people to put their best into what they do.
Be clear about your goals.
Celebrate wins.
This is an amazing conversation with a true leader with heart!
Greg Wathen serves as President and CEO of the Economic Development Coalition of Southwest Indiana. Since March of 2007, his leadership has helped garner over $3.2 billion in investment, over 4,000 jobs and $74 million in state and federal grants for the region. 
Prior to his work at the Coalition, Wathen worked as the Executive Director for the Perry County Development Corporation and was Public Affairs Manager for the Greater Louisville Economic Development Partnership. He also managed the Greater Louisville Media Information Center. In 1999 and 2001, he was part of a five-member U.S. team who taught the first tertiary and advanced economic development courses in New Zealand.
A graduate of Indiana State University, Wathen is Accredited in Public Relations by the Public Relations Society of America and held the position of president for the Bluegrass Chapter of the PRSA. He is a past president and served on the board of directors of the Indiana Economic Development Association.
Greg and his wife have three grown children, 5 grandchildren and live in Evansville with their two red and white Irish Setters and two rescue horses.
Alleviate the Barriers
Too often, we have a tendency to forget that even though you may be in a work environment, you're still working with people. Everyone is fighting some kind of battle. So, we try to remove as many barriers as there would be in our workplace in order to help everyone, and we hope the people saw that in the viral post.

A lot of people find it a real challenge to be within the workplace, to deal with all the day-in and day-out challenges one can have at work. That's why we are focused on how to attract and retain talents, whether you're in a corporate structure, or you're working in a non-profit structure, or you're within a broader community.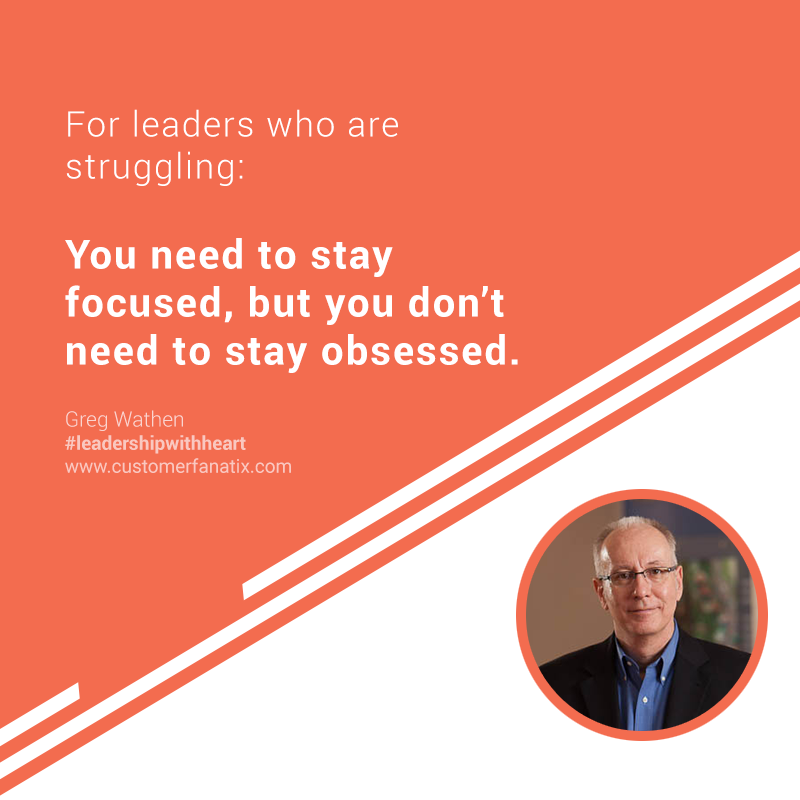 If you don't walk the talk, then I think we're missing something. In fact, everybody faces this  challenge on a daily basis. Hence, we want to alleviate any of those barriers possible so that they can have a really rewarding life, as well as balance their life with work, with the family and with the community.
In leadership, sometimes you have to make difficult decisions and they're not always easy, but you try to make the best ones at the time with the right amount of information you're given. – @GregWathen #leadershipwithheart Click To Tweet
Standing Meetings
Until you ask the question and until you have the conversation, you'll never know. – @GregWathen #leadershipwithheart Click To Tweet
Our meetings have a pretty collaborative process and I will say this: We get a lot done.

We work with a lot of various constituencies, from both private and public companies, to working with municipalities and other units of government, to working with non-profit organizations. Hence, we try to do meetings in a manner that really provides value to everyone. We don't just have a meeting for the sake of having one.  

All of our meetings are no more than an hour. Our team huddles typically are no more than 30 minutes and they are always standing meetings. We sit down and talk through a lot of different things, but we always do three things. We ask people: 

1) "What are you doing?" 

2) "What challenges do you have?" And 

3) "How can we help you?"

Then we ask something totally out of the ordinary such as, "If you're stranded on an island but with all essentials to survive, what extra thing would you bring along?"

The process in our meetings helps us focus and refocus on what is important. It also helps us get a breather. It works out really well for us.
Significant Changes
You can make significant changes in your neighborhood and in your community. Those can be actually meaningful and can transform someone's life. But, it's difficult to do because sometimes, we don't know how to do it.

But, once you start that process of trying to make some changes, down the road, like simply by holding the door open for someone, saying "Good Morning!" or just being nice, or having a smile on your face, that could really change somebody's attitude as they move forward.

It really is something that we try to ingrain in what we do in our organization and within our community.
We only have two goals for our organizations as we go forward and these are building the talent pipeline and boosting our fiscal wellbeing. Everything else is superfluous. – @GregWathen #leadershipwithheart Click To Tweet
Recognize that each of us have different sets of skills. We have different styles and we have to respect those. – @GregWathen #leadershipwithheart Click To Tweet
We may not always agree, but it's important for us to hear and listen. – @GregWathen #leadershipwithheart Click To Tweet
---
Mentions
Connect with Greg on LinkedIn and Twitter
View the viral LinkedIn post here
Subscribe, rate and review the podcast on iTunes!
Listen to the podcast on Spotify