ESCI
Emotional and Social Intelligence Training
Assessments, Coaching and Training
Are you worried that your leaders are deficient in the skills they need to build bonds with and inspire their team?
Why not fill the gaps that exist between your leadership and your frontline by investing in growing their emotional and social intelligence?
We understand what it takes to engage employees to go over and above in the work that they do. Employee loyalty is primarily driven by either their direct manager or decisions made by other senior leaders.
What is Emotional Intelligence?
Emotional Intelligence (EI) helps you measure and develop high performance behaviors.
EI helps you measure and develop these star qualities in your people, whatever their role or level, using the Emotional and Social Intelligence Competency Inventory (ESCI)  – the most validated measure of EI behaviors on the market.
How does it work?
The process is simple and easy to implement:
Employees and their raters respond to 68 questions which provide feedback on 12 emotional and social intelligence competencies.
We review the results.
We meet with the rated employee/leader to discuss the findings and can coach them over time with specific strategies to improve EI and relationships.
We then conduct emotional intelligence training with your team to dive deeper into ways to help your team work more effectively together given their differing emotional intelligence ratings.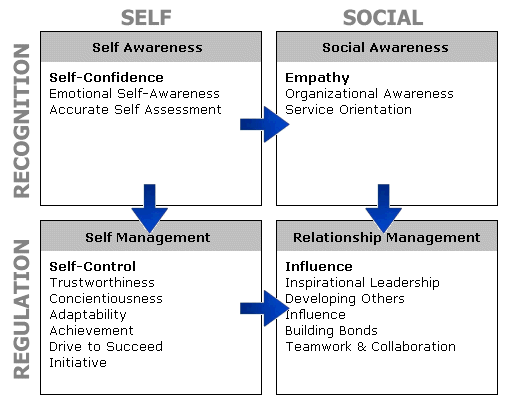 The Benefits of Emotional Intelligence Training
Measure high-performance behaviors in your employees. The ESCI is the outcome of research into what outstanding employees do to meet their performance criteria at work. So, you can be confident that you are measuring what matters.
Develop high-performance behaviors in your employees. The ESCI measures behaviors that can be developed, rather than personality. It offers meaningful feedback on how an individual's behavior comes across to others and what their strengths and weaknesses are. ESCI feedback helps employees develop their EI and put it to better use in your organization.
Track improvements in EI. Repeat use of the ESCI enables employees to keep working on their EI over time and our change report will highlight areas of improvement.
The Return on Your Investment:
Across job functions and industries, our research studies show that EI behaviors create the conditions that drive performance:
Enhanced innovation.
Faster acceptance of change and integration initiatives.
More effective use of time and resources.
Improved motivation.
Teamwork and collaboration. And the significance of EI increases with job difficulty. A top performer in a complex role can be as much as 127 per cent more productive than an average performer (Hunter, Schmidt & Judiesch, 1990).
Competency research in over 200 organizations worldwide attributes a third of this difference to technical and cognitive ability, and two thirds to EI (Goleman, 1998).
How to Grow More
Emotionally Intelligent